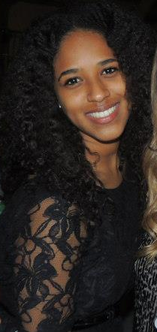 Shalom Haileselassie is currently a junior applied anthropology and regional planning double major from Pittsburgh. Born of a multi-ethnic and cultural background, Shalom maintains an intense passion for cultural studies; she mainly identifies with her Ethiopian, Native American, and Jewish heritage.
After fulfilling her degrees, Shalom intends to head to the Peace Corps before beginning her master's in anthropology. She aspires to work closely with indigenous populations not only in the United States, but across the world. Also, being a first-generation Ethiopian-American, Shalomhopes to focus her research on immigrant and migrant population; specifically Ethiopian Jews in Israel.

Shalom has committed herself to several organizations throughout her years at IUP. She is a proud founding member of IUP's Tlacuilo Honors Society and cares deeply about her academic success and the success of her peers; this mentality carries over into her membership with IUP's Amnesty International student sector, Native American Awareness Council, and Anthropology Club.
She has plans to study abroad in either Spain or Argentina during her senior year in order to strengthen her skills in Spanish while expanding her perception of the world. Shalom is also a research assistant at the Mid-Atlantic Research and Training Institute for Community and Behavioral Health.