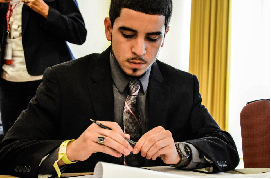 Marc Coln is a Spanish/English bilingual and bicultural Puerto Rican who lives in North Philadelphia. He is a Junior Board of Governors Scholar and McNair Scholar at Indiana University of Pennsylvania (IUP) and is majoring in Business Finance in the Business Honors program. Marc is currently interning at the Small Business Development Center at the Eberly College of Business at IUP. He also works as the first-ever student photographer and cinematographer for the IUP Marketing Department.

Committed to the university community, Marc is involved in a many organizations. He is the project associate of the Caring About Latino Student Achievement (CALSA) program, an organization within the Mid-Atlantic Addiction Research and Training Institute (MARTI) at IUP. He is also a member of the Latino Recruitment Committee at IUP, where he collaborates with other members in order to develop strategies for recruitment. Marc is also a founder of the new Tlacuilo Honor Society at IUP and is currently acting as the treasurer of this organization. He also assisted in the creation of the Frederick Douglass Debate Society on campus.

Marc has also been a member of the National Hispanic Institute (NHI) since the summer of his freshman year at the Arts Academy at Benjamin Rush High School. During Marc's freshman year in college, he was an IUP student representative at the NHI 2012 conference in San Antonio, Texas, entitled "Celebracin." Last summer, he interned at the NHI headquarters in Maxwell, Texas, where he developed his skills in project management, staff management, team building, curriculum development, and recruitment strategy. Additionally, Marc coaches NHI student participants who are incoming sophomores in high school at a six-day summer program in four categoriescross examination, oratory, extemporaneous speaking, and mock trialso that these students can prepare at the NHI's Northeast Great Debate at Villanova University.

Marc also makes time for extracurricular activities. His hobbies include boxing, photography, and networking.