College Prep 101 was the predecessor to CALSA. Originally, the program was a student-operated retention program created to assist Latino and other interested students in adjusting to university life during their first years on campus and to provide them with academic guidance.
The ultimate goal of the program was to prepare these students for graduate programs or professional studies, such as law or medical school. The program consisted of two major divisions: (1) Outreach and (2) Workshops and Programs. The two were designed to work in conjunction with each other. The project coordinator, Ms. Rosamaria Ponciano Parada, was in charge of Outreach, and Ms. Anelys Santos was responsible for Workshops and Programs.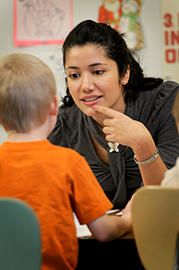 Our Vision
Our primary vision was to bring students who never even dreamed of going to college to not only see success in their undergraduate studies, but reach even higher to achieve their potential by continuing into graduate programs.
College Prep 101 for Latinos addressed retention through a culturally-based paradigm that considers the students' backgrounds and home life. Many Latino students are from very close-knit families and communities with a strong traditional culture that calls for respecting one's parents and maintaining strong ties with their families. These students are most commonly the first in their families to attend college and are frequently unprepared to deal with the many problems that face Latino students upon arriving to campus. Until they have developed friendships and effective strategies for adjusting to campus life, Latino students frequently undergo homesickness, feel socially and culturally isolated, struggle academically, and also face problems similar to those of other freshmen. These problems, particularly social and cultural isolation, are hardships for Latino students, given their small numbers on campus and the distance from their families and communities. These adjustment issues place Latino students at a high risk to abandon their studies at IUP.
College Prep 101 for Latinos was designed to complement existing programs on campus, and supports students participating in the Act 101 Program and CUSP by encouraging students to make use of resources/services offered through the Act 101 Program and offering other resources, such as workshops on basic skills for surviving. College Prep 101 for Latinos also supplemented Project ROCS, which is primarily aimed at incoming African American students and BOG recipients. In particular, it assisted Latino students who did not receive a BOG scholarship. In regards to project ROCS and College Prep 101 for Latinos, it should also be noted, were not identical. The culturally- and linguistically-centered approach of College Prep 101 was unique to the program. It met the specific needs of immigrant and first- and second-generation Latino students by incorporating their diverse Latin American heritage, Spanish language variations, and regional experiences not necessarily shared with other minority groups. Too often, these needs and the proper staffing are not considered in one-size-fits-all retention measures.
Historical Synopsis of Mission
Originally, College Prep 101 was a Latino recruitment and retention program designed around family, community, and the Latino Student Organizationon campus. Housed at the Mid-Atlantic Research and Training Institute for Community and Behavioral Health (MARTI), this program was under the direction of the then-associate director of the Multicultural and Ethnic Diversity Research Program, Dr. Victor Garcia. Besides office space, MARTI provided other important resources, such as equipment use. Thankfully, College Prep 101 (CALSA) and all of the resources it offered were made possible due to funds from a 2008-09 PASSHE Diversity and Equity Grant and the Office of Vice President for Student Affairs.