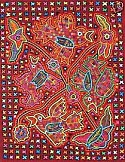 Caring about Latino Student Achievement (CALSA) is a faculty-student developed MARTI program aimed at retaining Latino and other minority students at IUP. Building on the institutes' research and outreach tradition in Latino communities, which spans well over a decade, CALSA offers a number of resources and opportunities to interested students to aid in the development of graduate school and career credentials. The emphasis of the program is preparing students for graduate school in public health and early stage careers in the field.

CALSA's academic preparation mission seeks to assist students, especially those in the social and behavioral sciences, in developing and maintaining a strong academic profile for graduate work and careers which target the needs of underserved populations. The program carries out this vital mission by providing a number of resources which are listed in more detail on the menu. These resources include, but are not limited to, information addressing internships, scholarships, and organizations and programs on and off campus. Please make sure to visit the related-links portion of the website for further information regarding these resources.

Importantly, CALSA also provides students with research and training opportunities which are not otherwise available to them in their academic departments. These opportunities are designed to develop research skills through hands-on experience by means of participation in MARTI's research projects, specifically in the areas of health and education. The training provided in this context consists of advising and preparing students for civic engagement on campus with the aim of developing a set of professional skills applicable to similar involvement in underserved communities. Service in these communities requires an understanding of the importance of community involvement as well as of institutional cultures.

To date, successful alumni, involved in CALSA or its predecessor, College Prep 101 for Latinos, are pursing graduate studies at leading research universities with full scholarships and are providing leadership in community-based, non-governmental organizations, such as the Latino Family Center in Pittsburgh and Project Hope in Boston.

As mentioned above, CALSA helps with strategies for developing profiles for admission into competitive graduate programs. It will also help with the following:

How to choose a graduate program
How to put together a strong application for graduate school, including writing a strong statement of purpose
How to select writers of letters of recommendation and how to ask for a letter of recommendation
The program also offers studentsa variety of workshops and, in particular, assists them with:

Searching for scholarships and preparing scholarship applications
Searching for internships and internship placement
Academic planning and progress monitoring
Additionally, as was previously mentioned, CALSA prepares students for research and civic engagement through the following activities:

Participation in MARTI research projects
Developing student organizations on campus aimed at academic excellence
Collaboration with student organizations across campus and the PA State System
Organizing and participating in diversity activities on campus
Assisting in IUP's recruitment efforts
Outreach to Latino Communities
Guadalupe Ortiz Cortez, Nancy Lopez Sosa , Yanira Cintora Lopez, Hortencia Correa and Lisa McCann are program associates at CALSA. They work on providing a variety of important services to students, such as an online listing of scholarships, internships and other opportunities, and helping organize and deliver workshops on professional development.

For further information, please contact Lisa McCann, CALSA project coordinator, at L.Mccann@iup.edu, or visit us at 109 Stright Hall.

Any resources or events that CALSA supports or sponsors are listedbelow or on the menu at the right side of the page.

CALSA Links

CALSA Facebook page with regular updates

Latino Organizations on Campus
Information about Latino organizations on campus for CALSA

SACNAS
SACNAS is a society of scientists dedicated to fostering the success of Hispanic/Chicano and Native American scientists.

Fellowships for Graduate Students
Science-related and other graduate fellowships

Recent News
Learn about recent developments with the CALSA Program.
Day of the Dead
Day of the Dead is a Latin American and Latino holiday with Pre-Hispanic origins, and is a beautiful, spirited, and reverent holiday.