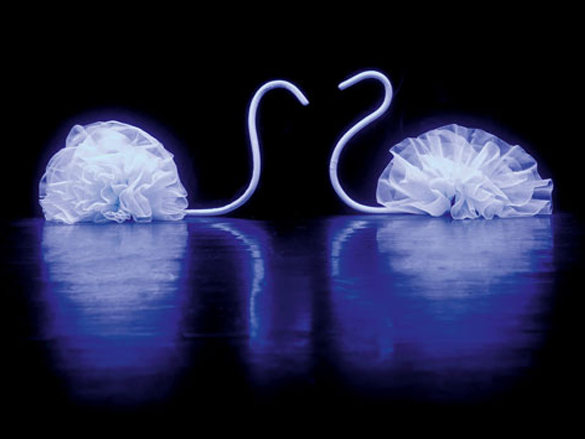 Mummenschanz "you & me"
February 14, 2020 at 7:00 p.m.
Fisher Auditorium, IUP Performing Arts Center
This event is over.
Mummenschanz has become synonymous with magic.
By creating a playful yet compelling experience through the inventive use of shadow, light, and creative manipulation of objects, Mummenschanz offers a stunning spectacle that transcends cultural barriers and sparks the imagination. The Swiss-based theater troupe has pioneered a new form of visual theater that has been dazzling audiences worldwide for more than 45 years.
Their most recent program, "you & me" features new performers bringing to life their larger-than-life creations right before your very eyes. Allow your imagination to flourish and fantasy to bloom as you encounter a world of extreme creativity. Experience the life of an oversized frog contemplating dinner and a graceful swan gliding across the waterless stage. Escape to an underwater world to encounter jellyfish and seahorses in their natural habitat. Enjoy, also, the traditional acrobatics of their classic sketches that have stood the test of time.
A perfect setting for a magical Valentine's Day for all ages.