Devices for Filling a Void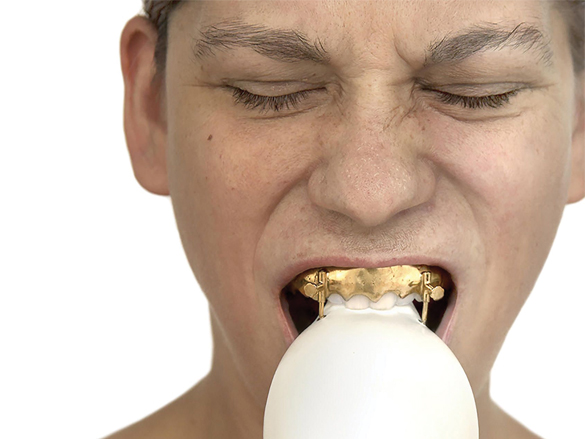 Devices for Filling a Void
September 10, 2019
Kipp Gallery, First Floor Sprowls Hall
This event is over.
Devices for Filling a Void combine jewelry forms with forms of reconstructive surgical devices, used to hold the flesh in place as it heals. In this case, rather than coaxing the face into an ideal position, they distort the face through expanding the nostrils and holding the mouth open. The object literally fills the voids of the facial orifices, but the title also implies a psychological filling of emotional or erotic voids.
The title points to ideas about women being incomplete or lacking, requiring augmentation by men, objects, dress, makeup, and adornment. Through the use of the semiotics of gold, artist Lauren Kalman visualizes the aesthetic, social, and ethical implications of the medicalization of beauty, adornment, and sexuality.
Opening reception is Monday, September 9, 5:00 p.m.
Kipp Gallery and Kipp Annex Gallery hours are Tuesday-Friday, noon to 4:00 p.m.; and closed Saturday, Sunday, and Monday and all university holidays and breaks.