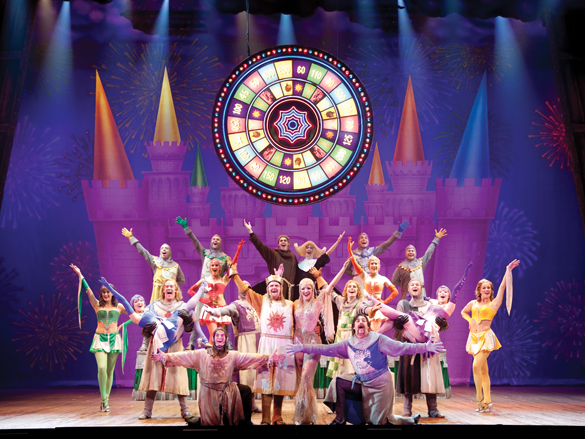 Spamalot
December 03, 2018 at 8:00 p.m.
Fisher Auditorium, IUP Performing Arts Center
This event is over.
Lovingly ripped off from the classic 1975 film comedy Monty Python and the Holy Grail, with a book by Eric Idle and music and lyrics by the Grammy Award-winning team of Idle and John Du Prez, Spamalot tells the tale of King Arthur and his Knights of the Round Table as they embark on their quest for the Holy Grail.
Taking them to strange places and meeting even stranger people, this quest challenges the noblemen to keep their heads on straight or die terribly weird deaths. Complete with catapulting cows, killer rabbits, taunting Frenchmen, and the somewhat odd Knights Who Say "Ni," combined with lively musical numbers throughout, this production will make for a night you won't soon forget.
Spamalot is a Broadway hit and irreverent parody of the famed Arthurian legend. The original 2005 Broadway production, directed by Mike Nichols, received 14 Tony Awards nominations, winning in three categories, including Best Musical. During its initial run of over 1,500 performances, it was seen by more than two million people and grossed over $175 million.
Regular: $48
Senior (60+): $43
I-Card* and Military*:$28
IUP Student*: $24
18 and Under: $24
Tickets are available beginning August 27, 2018, by ordering online, visiting the Lively Arts Ticket Office, or calling our ticket office at 724-357-1313.
The Ticket Office is located in the lobby of the IUP Performing Arts Center, 403 S. 11th Street,
Indiana, PA 15705. Tickets can be purchased onsite noon to 5:00 p.m. Monday-Friday, or up to an hour before the performance.
For groups of 15 or more, please call the Lively Arts Office at 724-357-2787.
*I-Card, military, and IUP student tickets can only be purchased in person at the Lively Arts Ticket Office. A current and valid I-Card and military ID must be provided when ordering. Limit of four (4) ticket per show at this discounted price.
*I-Cards are issued only to active and current IUP students and members of the Student Cooperative Association. Join the SCA.
Ticket fees of $3 per ticket are applied to purchases made online, by phone, and at the ticket office on the day and night of show.
To avoid ticket fees, please purchase your tickets at this Ticket Office in advance the day before the show or earlier.