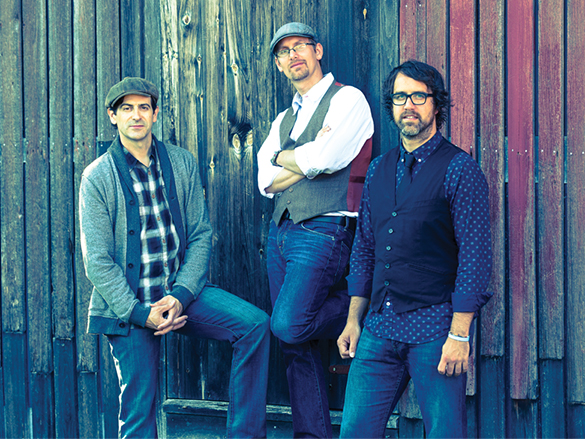 The Sweet Remains
March 01, 2019 at 8:00 p.m.
Gorell Recital Hall, Second Floor Sutton Hall
This event is over.
The Sweet Remains is the unusual band on today's music scene to be headed by three gifted singer-songwriters, each of whom contribute to the writing and three-part harmonies that define the band's sound. They are also the very rare independent band to claim over 30 million Spotify plays worldwide (and counting).
Driven by strong lyrical and melodic writing, their songs easily appeal to fans of modern folk-rockers like Jason Mraz, Ray Lamontagne, and John Mayer. However, it is their lush harmonies that distinguish tSR from the throngs of guitar-toting troubadours and harken back to super-groups of the 60's and 70's like CSN, the Eagles, and Simon & Garfunkel.
2018 added a feature film to the band's unique accomplishments. The Independents, a musical comedy-drama created by and starring the band, premiered February 3 at the distinguished Santa Barbara International Film Festival to the plaudits of festival-goers and the Hollywood Reporter, which praised the film as "Extremely engaging… Unconventional and sharply written… Deserves to find an audience beyond the festival circuit."
Rich Price (Burlington, Vermont), Greg Naughton (New York City) and Brian Chartrand (Phoenix, Arizona) are the Sweet Remains. Rich and Greg first collaborated on Rich's 2004 Geffen Records debut—a CD that spawned his single "I'm On My Way," featured on the multi-platinum Shrek 2 soundtrack. Hailed by Performing Songwriter Magazine as "a magnetic writer and performer," Greg has played his music all across the country in venues ranging from New Orleans' grittiest to the east room of the White House. Brian's journeys as an internationally touring singer-songwriter and multi-instrumentalist have taken him from South Hadley, Massachusetts, where he grew up, to Phoenix, where he splits his time as a solo-artist and front-man of the Project and Live from Laurel Canyon.
The band's releases include the debut album Laurel & Sunset (2008); a live CD/DVD titled Live at Canal Room (2012); a second studio album, North & Prospect (2013); and a third studio album, Night Songs (2015). Their music has more than 30 million plays on Spotify and has been winning the praise of audiences and critics across the United States. and Europe. (USA Today selected it as a "pick-of-the-week"; the Boston Herald said, "It's been a long time since three-part harmonies this lush were yoked to songs this melodically gorgeous").
Film screening of The Independents, Thursday, February 28, 6:30 p.m. A musical comedy-drama created by and starring the Sweet Remains. This film is not yet rated. Contains brief nudity and some mature language and situations. Free admission, limited to two tickets per order.
Regular: $22
Senior (60+): $19
I-Card* and Military*:$13
IUP Student*: $11
18 and Under: $11
Tickets are available beginning August 27, 2018, by ordering online, visiting the Lively Arts Ticket Office, or calling our ticket office at 724-357-1313.
The Ticket Office is located in the lobby of the IUP Performing Arts Center, 403 S. 11th Street,
Indiana, PA 15705. Tickets can be purchased onsite noon to 5:00 p.m. Monday-Friday, or up to an hour before the performance.
For groups of 15 or more, please call the Lively Arts Office at 724-357-2787.
Ticket fees of $3 per ticket are applied to purchases made online, by phone, and at the Lively Arts Ticket Office†on the day and night of show.
To avoid ticket fees, please purchase your tickets at the Lively Arts Ticket Office† in advance the day before the show or earlier.
*I-Card (for IUP students and current SCA members) and Military discounted tickets must be purchased in person at the Ticket Office. Cards must be presented to be verified.
†The Lively Arts Ticket Office is located in the lobby of the IUP Performing Arts Center, 403 S. 11th Street, Indiana, PA 15705, and is open from noon to 5:00 p.m. Monday through Friday, when classes are in session.