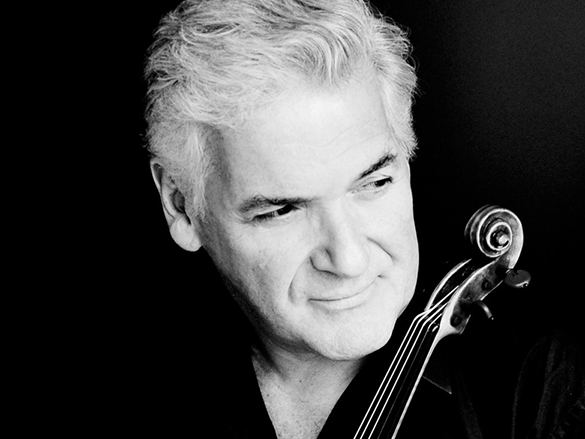 Pittsburgh Symphony Orchestra with Pinchas Zukerman
September 29, 2018 at 8:00 p.m.
Fisher Auditorium, IUP Performing Arts Center
This event is over.
Award-winning violinist and 2018-19 Helwig Distinguished Artist Pinchas Zukerman joins Maestro Manfred Honeck and the Pittsburgh Symphony Orchestra as they return to Indiana for a breathtaking night of music.
Established in 1895, the Pittsburgh Symphony Orchestra has become an international sensation over the course of its existence. Well into its second century, PSO has remained immediately relevant to those interested in classical music. Teamed with Honeck, the Pittsburgh Symphony Orchestra has received wonderfully positive reviews and was nominated for Best Orchestra Recording Grammy Award in 2015.
A recipient of two Grammy Awards and 21 nominations, Zukerman has remained a phenomenon in the world of music for over four decades. His musical genius, prodigious technique, and unwavering artistic standards are a marvel to audiences and critics. Born in Tel Aviv in 1948, Zukerman has been awarded the Medal of Arts and the Isaac Stern Award for Artistic Excellence and was appointed as the Rolex Mentor and Protégé Arts Initiative's first instrumentalist mentor in the music discipline.
Regular: $40
Senior (60+): $36
I-Card* and Military*:$23
IUP Student*: $20
18 and Under: $20
Tickets are available beginning August 27, 2018, by ordering online, visiting the Lively Arts Ticket Office, or calling our ticket office at 724-357-1313.
The Ticket Office is located in the lobby of the IUP Performing Arts Center, 403 S. 11th Street,
Indiana, PA 15705. Tickets can be purchased onsite noon to 5:00 p.m. Monday-Friday, or up to an hour before the performance.
For groups of 15 or more, please call the Lively Arts Office at 724-357-2787.
*I-Card, military, and IUP student tickets can only be purchased in person at the Lively Arts Ticket Office. A current and valid I-Card and military ID must be provided when ordering. Limit of four (4) ticket per show at this discounted price.
*I-Cards are issued only to active and current IUP students and members of the Student Cooperative Association. Join the SCA.