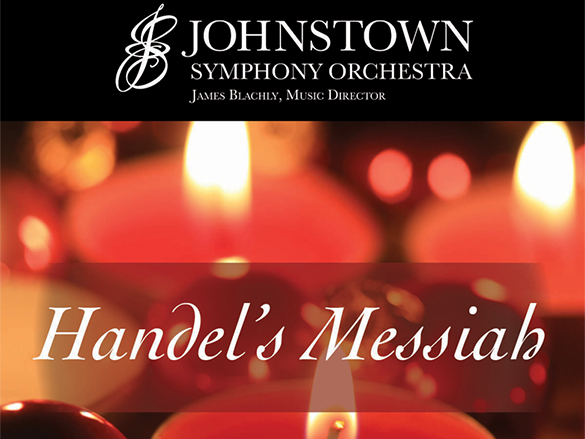 Johnstown Symphony Orchestra Presents Handel's "Messiah"
December 09, 2018 at 3:00 p.m.
Fisher Auditorium, IUP Performing Arts Center
This event is over.
Kick off the holiday season by experiencing Handel's glorious Messiah performed by the Johnstown Symphony Orchestra under the direction of Maestro James Blachley. This performance will also feature world-renowned soloists Kathryn Mueller (soprano), Meg Bragle (alto), Oliver Mercer (tenor), and John Brancy (bass). Adding to the excitement will be choirs from Indiana University of Pennsylvania, under the direction of Ryan Beeken, and the Johnstown Symphony Chorus.
In 1741, this oratorio was composed by the German composer George Frideric Handel, with a scriptural text compiled by Charles Jennens from the King James Bible, and from the version of the Psalms included with the Book of Common Prayer. Originally composed for Easter, Handel's Messiah had its premiere in Dublin on the stage of Musick Hall on April 13, 1742, and received its London premiere nearly a year later. Handel's Messiah remains his best-known work, with its famous "Hallelujah Chorus" performed by choirs all over the world.
Regular: $24
Senior (60+): $21
I-Card* and Military*:$15
IUP Student*: $12
18 and Under: $12
Tickets are available beginning August 27, 2018, by ordering online, visiting the Lively Arts Ticket Office, or calling our ticket office at 724-357-1313.
The Ticket Office is located in the lobby of the IUP Performing Arts Center, 403 S. 11th Street,
Indiana, PA 15705. Tickets can be purchased onsite noon to 5:00 p.m. Monday-Friday, or up to an hour before the performance.
For groups of 15 or more, please call the Lively Arts Office at 724-357-2787.
*I-Card, military, and IUP student tickets can only be purchased in person at the Lively Arts Ticket Office. A current and valid I-Card and military ID must be provided when ordering. Limit of four (4) ticket per show at this discounted price.
*I-Cards are issued only to active and current IUP students and members of the Student Cooperative Association. Join the SCA.
Ticket fees of $3 per ticket are applied to purchases made online, by phone, and at the ticket office on the day and night of show.
To avoid ticket fees, please purchase your tickets at this Ticket Office in advance the day before the show or earlier.