Compania Flamenca Eduardo Guerrero Presents "Flamenco Pasion"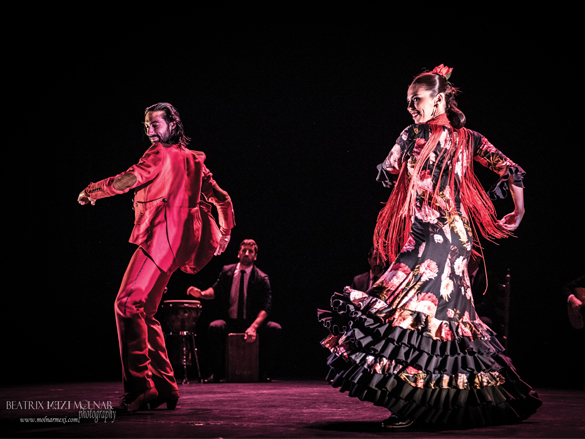 Compania Flamenca Eduardo Guerrero Presents Flamenco Pasion
October 16, 2018 at 8:00 p.m.
Fisher Auditorium, IUP Performing Arts Center
This event is over.
Eduardo Guerrero Gonzalez began dancing when he was just six years old at Carmen Guerrero's School in Cádiz, Spain, where he forged the base of his dancing career that he then further developed with professional dancers such as Mario Maya, Antonio Canales, and Manolo Marín, among others. It was in 2002 when he started to work with major artists on the national scene who valued Eduardo's physical ability, flawless technique, and evident quality. He toured the world over at the side of the greatest names in Dance, at the best known theaters, and most prestigious dance festivals.
In 2011, he was awarded his first prize by the Professional Conservatories for a choreography he created, called "Mayo." Afterwards, Eduardo began a solo career taking over the creation of his own performances, giving us the Flamenco Pasion program. His mastery allowed him to place first at the oldest Flamenco Festival de la Union in 2013. Since then, Eduardo has been touring with his creations in the main theaters and festivals with a very warm response from the international dance audiences and increasingly excellent reviews.
Flamenco Pasion is a show that bursts with energy and passion, presenting the different palos of flamenco that immediately thrill the audience with its unique energy. Produced for a North American audience, Flamenco Pasion features the critically acclaimed flamenco dancer and choreographer as he uses his eclectic style to combine classical and contemporary Spanish dance, ballet, and contortion. The complete Compania Flamenca group of talented artists conveys all the different feelings of the temperamental and passionate dance of flamenco, expressed with depth of passion and intricate skill.
Regular: $22
Senior (60+): $19
I-Card* and Military*:$13
IUP Student*: $11
18 and Under: $11
Tickets are available beginning August 27, 2018, by ordering online, visiting the Lively Arts Ticket Office, or calling our ticket office at 724-357-1313.
The Ticket Office is located in the lobby of the IUP Performing Arts Center, 403 S. 11th Street,
Indiana, PA 15705. Tickets can be purchased onsite noon to 5:00 p.m. Monday-Friday, or up to an hour before the performance.
For groups of 15 or more, please call the Lively Arts Office at 724-357-2787.
*I-Card, military, and IUP student tickets can only be purchased in person at the Lively Arts Ticket Office. A current and valid I-Card and military ID must be provided when ordering. Limit of four (4) ticket per show at this discounted price.
*I-Cards are issued only to active and current IUP students and members of the Student Cooperative Association. Join the SCA.
Ticket fees of $3 per ticket are applied to purchases made online, by phone, and at the ticket office on the day and night of show.
To avoid ticket fees, please purchase your tickets at this Ticket Office in advance the day before the show or earlier.