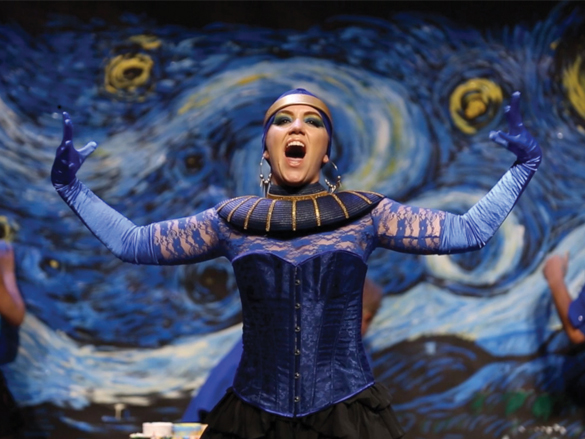 Artrageous and Art Auction
October 21, 2018 at 3:00 p.m.
Fisher Auditorium, IUP Performing Arts Center
This event is over.
Imagine witnessing the creativity of an artist creating a masterpiece before your eyes in mere moments, and join the challenge to see if you can guess what is being created. Inspired by the troupe's vocalists, musicians, and dancers, the artist races to complete paintings before the last note is sung.
Combined with captivating vocals, intricate choreography, and exciting music, Artrageous takes you on a visual journey and a high-energy ride of inspiration, creativity, and engagement. This talented group pays tribute to a variety of art forms, icons, and musical genres throughout the evening. The result: A uniquely entertaining, masterpiece show culminating in a gallery of fabulous finished paintings.
Artrageous' music-based troupe has performed for the likes of Sir Richard Branson, Steve Forbes, and General Colin Powell, and in venues and events all over the world from India to Thailand and Paris to Austria, performing at over 2,000 events in their history.
A signature of the Artrageous, from the very beginning of their long history, is interaction and engagement—so be prepared to be a part of the show. Each show is as unique as each audience, and we can't do it without you! Afterwards, you will be invited to view the art up close and participate in a silent auction to benefit local art organizations.
Regular: $26
Senior (60+): $22
I-Card* and Military*:$15
IUP Student*: $13
18 and Under: $13
Tickets are available beginning August 27, 2018, by ordering online, visiting the Lively Arts Ticket Office, or calling our ticket office at 724-357-1313.
The Ticket Office is located in the lobby of the IUP Performing Arts Center, 403 S. 11th Street,
Indiana, PA 15705. Tickets can be purchased onsite noon to 5:00 p.m. Monday-Friday, or up to an hour before the performance.
For groups of 15 or more, please call the Lively Arts Office at 724-357-2787.
*I-Card, military, and IUP student tickets can only be purchased in person at the Lively Arts Ticket Office. A current and valid I-Card and military ID must be provided when ordering. Limit of four (4) ticket per show at this discounted price.
Ticket fees of $3 per ticket are applied to purchases made online, by phone, and at the ticket office on the day and night of show.
To avoid ticket fees, please purchase your tickets at this Ticket Office in advance the day before the show or earlier.