Jersey Boys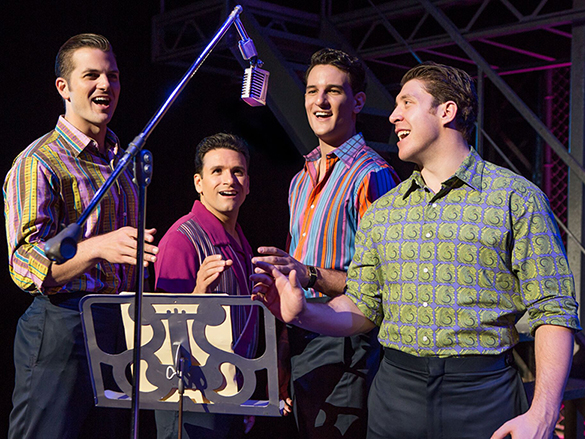 Jersey Boys
October 12, 2017 at 8:00 p.m.
Fisher Auditorium, IUP Performing Arts Center
This event is over.
They were just four guys from Jersey, until they sang their very first note. They had a sound nobody had ever heard… and the radio just couldn't get enough of. But while their harmonies were perfect on stage, off stage their life was a very different story.
Jersey Boys is the behind-the-scenes Broadway musical about Frank Valli and the Four Seasons, the iconic singing group of blue-collar boys from the wrong side of the tracks who became one of the biggest American pop music sensations of all time. It has been seen worldwide by millions of people and has intrigued those with its spectacular recreations of 1960's classic hits, including "Sherry," "Big Girls Don't Cry," and "Can't take My Eyes Off You."
In addition to following the quartet's coming of age as performers, the core of this Tony, Olivier, and Grammy Award-winning Best Musical is how an allegiance to a code of honor learned in the streets of New Jersey got them through a multitude of challenges: gambling debts, Mafia threats, and family disasters. Jersey Boys is a glimpse at the people behind a sound that has managed to endure for over four decades in the hearts of the public.
Jersey Boys is not recommended for all ages. The show contains smoke, gun shots, strobe lights, drug references, sexual situations, and profane "authentic Jersey language."

Tickets for Jersey Boys are available by clicking on the button above or by calling the Lively Arts' ticket office at 724-357-1313. Tickets for any seats remaining will be sold at the door starting one hour prior to the performance start time. Tickets are priced at $48 for regular admission, $42 for seniors (60 or older), and $22 for active I-Card holders, students, and children. Group rates are available for parties of 15 or more.