Les Ballets Trockadero de Monte Carlo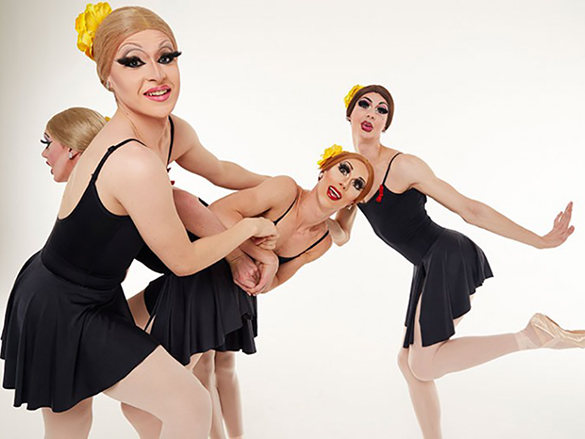 Les Ballets Trockadero de Monte Carlo
February 05, 2018 at 8:00 p.m.
Fisher Auditorium, IUP Performing Arts Center
This event is over.
Delighting and amusing the most knowledgeable, as well as novice, audiences, Les Ballets Trockadero de Monte Carlo presents a playful and entertaining view of traditional classical ballet as it simultaneously parodies its conventions and clichés.
"The Trocks" is a company of professional male dancers performing the full range of the ballet and modern dance repertoire in faithful renditions, all the while incorporating and exaggerating the foibles, accidents, and underlying incongruities of the serious dance. The fact that men dance all the parts—heavy bodies delicately balancing on toes as swans, sylphs, water sprites, romantic princesses, and angst-ridden Victorian ladies—enhances rather than mocks the spirit of dance as an art form.
This American, all-male, drag ballet corps was founded in 1974 by a group of ballet enthusiasts for the purpose of presenting the traditional romantic ballet in parody form and en travesti. The dancers quickly garnered major critical acclaim, establishing them as an artistic and popular success. By mid-1975, the Trocks' inspired blend of their loving knowledge of dance, their comic approach, and the astounding fact that men can, indeed, dance en pointe without falling flat on their faces, was being noted beyond New York.
Since those beginnings, the Trocks have established themselves as a major dance phenomenon throughout the world. They have participated in dance festivals and appeared on television programming across the globe. They have had their own network specials in Japan, Germany, and France, and have even performed live for the British royal family.
Tickets for Les Ballets Trockadero de Monte Carlo are available by clicking on the button above or by calling the Lively Arts' ticket office at 724-357-1313. Tickets for any seats remaining will be sold at the door starting one hour prior to the performance start time. Tickets are priced at $40 for regular admission, $36 for seniors (60 or older), and $18 for active I-Card holders, students, and children. Group rates are available for parties of 15 or more.