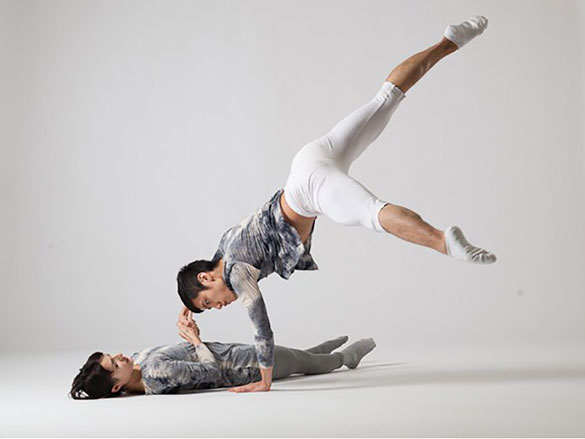 Kun-Yang Lin Dancers
October 17, 2017 at 8:00 p.m.
Fisher Auditorium, IUP Performing Arts Center
This event is over.
Hailed for their superbly trained dancers and inventive choreography, Kun-Yang Lin Dancers are committed to practicing a fearless physicality that resonates with the soul, inviting their audiences to engage in their own journey of self-discovery.
Proceeding from a rich frame informed by living traditions, contemplative practices, and diverse philosophies of Asian origin, the company creates contemporary dances that transcend cultural boundaries. Drawing upon Eastern philosophies while expanding the perimeter of contemporary dance, Artistic Director Lin's zen-inspired practice of dance manifests in lush works of poetic sensibility that the New York Times says "create and inhabit worlds of their own."
Lin draws upon multicultural insights from his ongoing research throughout Asia, creating a personal movement language that is an unexpected hybrid between Western and Eastern cultures, suffused with strong spiritual underpinnings. Among the primary impulses nourishing his artistry are Buddhist and Taoist world views and the internal energetic flows of many Eastern arts he has practiced over the years, including tai chi, chi gong, calligraphy, meditation, and Chinese opera movement.
Based in south Philadelphia, Lin's artistry has been presented worldwide, from Lincoln Center to Jacob's Pillow to the Tanzmesse International Dance Festival, and has received support from leading funders of the arts that include the National Endowment for the Arts, the Pew Center for Arts and Heritage, the MidAtlantic Arts Foundation, the Independence Foundation, and the Jerome Robbins Foundation.
Tickets for Kun-Yang Lin Dancers are available by clicking on the button above or by calling the Lively Arts' ticket office at 724-357-1313. Tickets for any seats remaining will be sold at the door starting one hour prior to the performance start time. Tickets are priced at $22 for regular admission, $18 for seniors (60 or older), and $12 for active I-Card holders, students, and children. Group rates are available for parties of 15 or more.