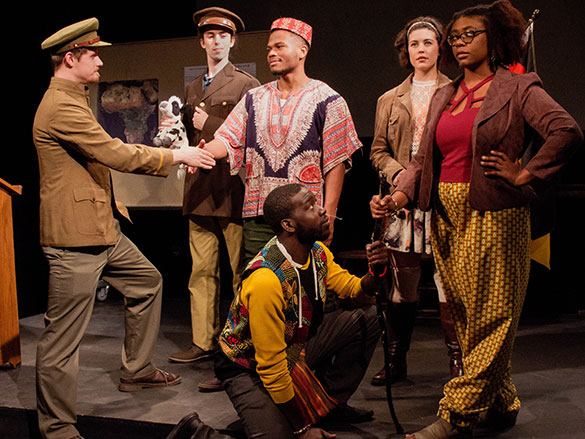 We Are Proud to Present a Presentation About the Herero of Namibia, Formerly Known as Southwest Africa, From the German Südwestafrika, Between the Years 1884-1915
October 13, and 14, , and 15, 2016 at 2:00 p.m.
October 16, 2016 at 8:00 p.m.
October 19, , and 20, , and 21, , 22, 2016 at 8:00 p.m.
Waller Mainstage Theater, IUP Performing Arts Center
This event is over.
A group of actors gather to tell the little-known story of the first genocide of the 20th century. We Are Proud … takes place largely in a rehearsal room that descends from collaborative to absurd as a group of idealistic actors—three black and three white—attempt to recreate the extinction of the Herero tribe at the hands of their German colonizers.
The play is written by Jackie Sibblies Drury and will be directed by April Daras.
Along the way, they test the limits of empathy as their own stories, objectives, assumptions, and prejudices catalyze their theatrical process. Eventually, the full force of a horrific past crashes into the good intentions of the present; and what seemed a faraway place and time, comes all too close to home.
We Are Proud... contains language and situations to which some audience members may object.
Tickets will be available beginning Tuesday, September 13, 2016, by visiting the IUP HUB Box Office on Pratt Drive, by calling 724-357-1313, or by ordering online. Regular: $15; Seniors (60+): $12; and I-Card holders, students, and children: $10. For groups of 15 or more, please call the Lively Arts Office at 724-357-2787.
Refunds
If you had tickets for the canceled performance on Wednesday, October 19, and were unable to use them for any other performance, please contact Terri Williams in the Department of Theater and Dance to request a refund. Williams can be reached at 724-357-2965 or by e-mailing twilliam@iup.edu.