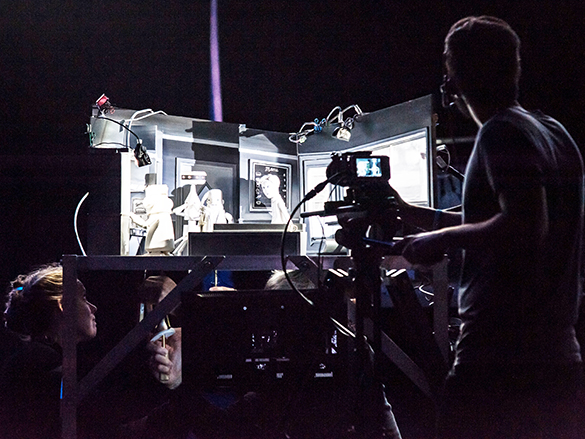 Kid Koala's Nufonia Must Fall
September 27, 2016 at 8:00 p.m.
Fisher Auditorium, Performing Arts Center
This event is over.
Kid Koala's Nufonia Must Fall is an astonishing mesh of media magic guaranteed to intrigue audiences of every age. From its technical genius to tender story to original music, it is a definite must-see.
Consisting of 14 small-scale sets, an electronic array of instruments performed by Kid Koala, a live performance by the Afirara Quartet, and a small army of puppeteers and videographers projecting the performance on a large screen, this innovative show follows a touching love story between a robot growing outdated and a winsome office drone.
Based on the award-winning graphic novel by world-renowned scratch DJ and music producer Kid Koala, Nufonia Must Fall includes a post-show, on-stage, close-up look of how this masterpiece was produced.
A true artist in every sense of the word, Kid Koala has released four solo albums and has toured with Radiohead, the Beastie Boys, Arcade Fire, Money Mark, A Tribe Called Quest, Mike Patton, DJ Shadow, and the Preservation Hall Jazz Band. He has also worked on the scores for the films Shaun of the Dead, Scott Pilgrim vs. the World, Looper, and The Great Gatsby.
Nufonia Must Fall is directed by Keith "K.K." Barrett. Barrett has worked on music videos by Smashing Pumpkins and Beck and was also nominated for the Academy Award for Best Production Design for the film Her.
Single tickets will be available beginning Tuesday, August 23, 2016, by visiting the IUP HUB Box Office on Pratt Drive, by calling 724-357-1313, or by ordering online. Regular: $28; Seniors (60+): $24; and I-Card holders, students, and children: $16. For groups of 15 or more, please call the Lively Arts Office at 724-357-2787.