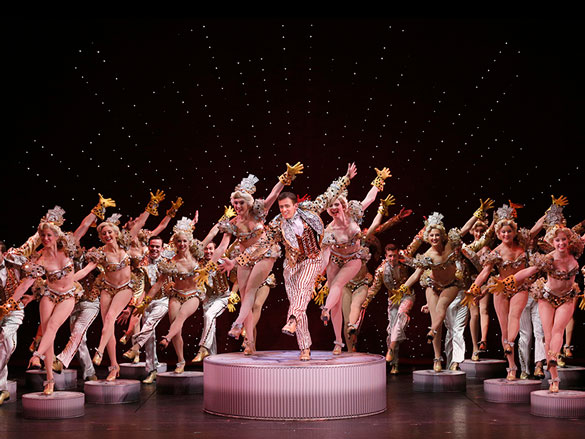 42nd Street
March 30, 2017 at 8:00 p.m.
Fisher Auditorium, Performing Arts Center
This event is over.
Direct from Broadway and the quintessential backstage musical comedy classic, 42nd Street is the song and dance fable of an American Dream story and includes some of the greatest songs ever written.
Starry-eyed and Broadway-bound Peggy Sawyer comes to the Big Apple to audition for a brand new musical. She gets a part in the show; but, when the leading lady breaks her ankle, Peggy takes over and becomes a star. This sparkling new production will be directed by Mark Bramble and choreographed by Randy Skinner, the team that staged the 2001 Tony Award-winner for Best Musical Revival.
The original production of 42nd Street opened on Broadway in 1980. From this debut year, it was nominated for eight Tony Awards and four Drama Desk Awards. It took home two Tony Awards for Best Musical and Best Choreography and two Drama Desk Awards for Best Choreography and Best Costume Design. Twenty-one years later, 42nd Street was revived on Broadway and again won two Tony Awards, this time for Best Musical Revival and Best Leading Actress. It also won the Drama Desk Award for Outstanding Revival.
The musical incorporates songs from famous films in the 1930s such as Dames, Go Into Your Dance, Gold Diggers of 1933, Gold Diggers of 1935, Gold Diggers of 1937, Roman Scandals, and, of course, 42nd Street.
Single tickets will be available beginning Tuesday February 28, 2017, by visiting the IUP HUB Box Office on Pratt Drive, by calling 724-357-1313, or by ordering online. Regular: $44; Seniors (60+): $39; and I-Card holders, students, and children: $20. For groups of 15 or more, please call the Lively Arts Office at 724-357-2787.