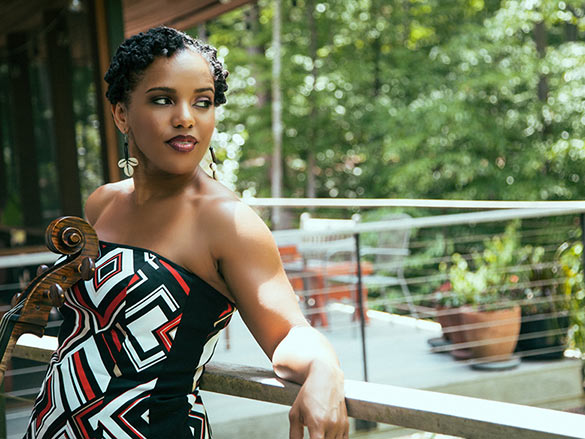 Shana Tucker
April 13, 2017 at 8:00 p.m.
Gorell Recital Hall, 2nd Floor Sutton Hall
This event is over.
Singer, songwriter, and cellist Shana Tucker credits her genre-bending ChamberSoul journey to the influences of her jazz and classical roots interwoven with 80's and 90's pop music, movie soundtracks, and world music.
With a deep respect for the art of storytelling, Shana's lyrical melodies evoke strong hints of jazz, soulful folk, and acoustic pop, woven into a unique rhythmic tapestry.
Accompanied by a small group of musicians, Shana sets a tone of acoustic intimacy on stage—as well as with the audience—so that the music, performers, and audience feel close and tangible, with IUP's Gorell Recital Hall serving as the perfect place to host this engaging and charismatic performer.
Born and raised on Long Island, New York, Shana's cello talents awarded her a scholarship to Howard University, where she initiated her improvisation chops and honed her songwriting skills as a member of HUE, a singing piano trio that received critical acclaim within the D.C. and New York City music scenes. She completed her cello studies at CUNY-Brooklyn College Conservatory of Music before moving to North Carolina to raise her son.
Her debut CD SHiNE caught the attention of a Cirque de Soleil talent recruiter, and she was invited to Las Vegas to join the world-class theatrical production company as a cellist and mezzo-soprano for their resident production at the MGM Grand Hotel. She has opened for internationally acclaimed artists like Nora Jones, Lisa Fischer, Javon Jackson, and more.
Tickets will be available beginning Tuesday, March 14, 2017, by visiting the IUP HUB Box Office on Pratt Drive, by calling 724-357-1313, or by ordering online. Regular: $22; Seniors (60+): $18; and I-Card holders, students, and children: $12. For groups of 15 or more, please call the Lively Arts Office at 724-357-2787.