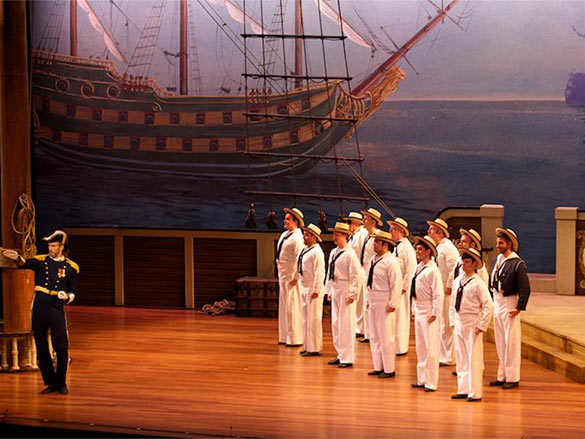 HMS Pinafore: New York Gilbert & Sullivan Players
May 03, 2017 at 7:00 p.m.
Fisher Auditorium, Performing Arts Center
This event is over.
Gilbert's and Sullivan's HMS Pinafore, or The Lass That Loved a Sailor, was first performed at London's Opera Comique in 1878 and has remained popular on both sides of the Atlantic ever since. With its plot imbued with mirth and silliness, it is a wave of music and laughter.
As romantic sailors, sisters, cousins, and aunts sing and dance their way across the deck of the fanciful British naval vessel, audiences of every age will be entertained by this musical theater operetta. The story sends satirical jabs at the vaunted British Navy and at rigid Victorian class distinctions which remain as readily understandable in the new millennium as they were over a century ago.
The New York Gilbert & Sullivan Players' production of HMS Pinafore features an elaborate setting of a ship's deck based on drawings by Gilbert himself, allowing us to be taken into the mind of the creator. Coupled with its satirical wit that is designed to amuse and not provoke, the universal nature of human foibles shines through.
Composer Sullivan provides indelible musical classics such "I'm Called Little Buttercup," "I am the Captain of the Pinafore," and "I am the Monarch of the Sea," all having become popular songs among the English-speaking world.
After the show, the entire audience is invited to join us in the Crimson Café, right next to Fisher Auditorium. Help us celebrate the show and the season finale as we are treated to special refreshments by one of our seasonal sponsors, IUP Campus Dining.
Single tickets will be available beginning Tuesday, March 28, 2017, by visiting the IUP HUB Box Office on Pratt Drive, by calling 724-357-1313, or by ordering online. Regular: $40; Seniors (60+): $34; and I-Card holders, students, and children: $18. For groups of 15 or more, please call the Lively Arts Office at 724-357-2787.