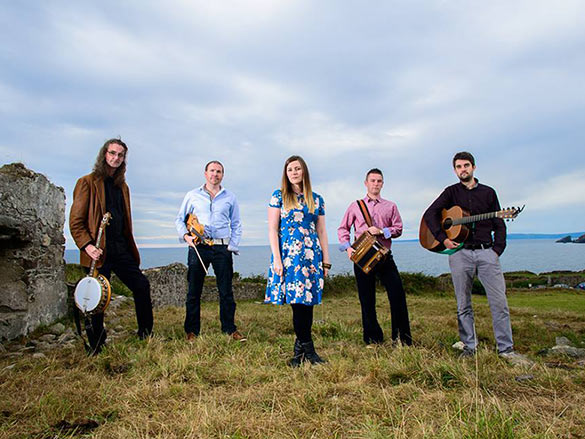 Caladh Nua
March 05, 2017 at 7:00 p.m.
Gorell Recital Hall, second floor Sutton Hall
This event is over.
The five versatile musicians and singers of Caladh Nua take you back to where their music is deeply rooted—the southern counties of Ireland. The performers have mastered a range of instruments, from fiddle to banjo, guitar to Bodhrán, and tin whistle to button accordion.
Carrying the customs of their ancestors to audiences in Paris, Vienna, Copenhagen, Berlin, Mumbai, and many other cities across the globe, Caladh Nua takes traditional Irish music and balances it with an innovative contemporary flair. The group continually entertains people with their style, energy, and passion.
"Caladh Nua" is a term that is generally known as "new haven" or "safe resting place." The ensemble will perform their repertoire of evocative Irish tunes just in time to celebrate St. Patrick's Day.
When the show is over, join the musicians and the rest of the audience for a Post-concert Jam Upstairs at the Coney in Downtown Indiana. Bring an instrument, and let's make some music together. Or, sit back and enjoy the post-concert fun. Your show ticket gets you in the door free and includes some Irish food specialties and a cash bar will be available. This is an all-age friendly event celebrating St. Patrick's Day a bit early!
Tickets will be available beginning Tuesday, January 31, 2017, by visiting the IUP HUB Box Office on Pratt Drive, by calling 724-357-1313, or by ordering online. Regular: $22; Seniors (60+): $18; and I-Card holders, students, and children: $12. For groups of 15 or more, please call the Lively Arts Office at 724-357-2787.