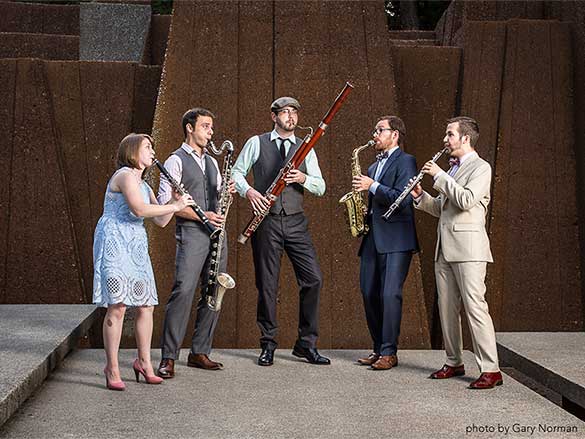 Akropolis Reed Quintet
November 09, 2016 at 8:00 p.m.
Gorell Recital Hall, Second Floor Sutton Hall
This event is over.
Founded in 2009, the Akropolis Reed Quintet delivers passionate, energized, and unforgettable performances around the country and abroad. Their infectious energy and intensity takes listeners on extraordinary musical adventures with both new and traditional repertoire.
First discovered at the University of Michigan, the Akropolis Reed Quintet was the first reed quintet to win the Fischoff Gold Medal in 2014, take grand prize at the MTNA and Plowman chamber music competitions in 2011, and receive the 2015 Fischoff Educator Award, among a variety of other awards in their seven years of performing together.
Akropolis is deeply invested in establishing the reed quintet as a cornerstone chamber music ensemble and has created the first reed quintet consortium of 15 reed quintets from three continents. Furthering the construction of a new paradigm in chamber music, they are committed to reaching out and fortifying the next generation of musicians.
The quintet consists of Tim Gocklin, oboe; Kari Dion, clarinet; Matt Landry, saxophone; Ryan Reynolds, bassoon; and Andrew Koeppe, bass clarinet, all of whom are founding members. Together, they produce insatiable performance chemistry. One reviewer even stated, "The group, who played from memory…, elevated precision to passion with their brilliantly tight performance."
Tickets will be available beginning Tuesday, October 4, 2016, by visiting the IUP HUB Box Office on Pratt Drive, by calling 724-357-1313, or by ordering online. Regular: $22; Seniors (60+): $18; and I-Card holders, students, and children: $12. For groups of 15 or more, please call the Lively Arts Office at 724-357-2787.