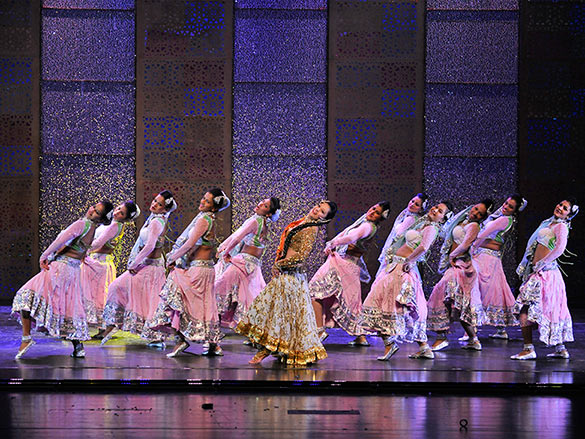 Taj Express: The Bollywood Musical Revue
February 14, 2017 at 8:00 p.m.
Fisher Auditorium, Performing Arts Center
This event is over.
Direct from Film-City Mumbai, India, Taj Express is a thrilling "Dance Romance." Combining music, dance, and film into one exciting performance, Taj Express explores the world of traditional Bollywood performances.
An Extra-special Event. Arrive Early!
We encourage you to arrive early. Starting at 6:45 p.m. several student organizations will be providing a Valentine's Day Mocktail event. Organized by the Pulse from the Center for Multicultural Student Leadership and Engagement, groups will provide tastings of special non-alcoholic concoctions fit for this lover's holiday. Enjoy, socialize, imbibe, and vote for your favorite drink, then see the show. Prizes for the best drinks will be awarded in our Grand Lobby after the show. This will be the perfect date night for this special day.
About the Show
This production fuses western and eastern culture with classical Indian dance steps, sensual moves, traditional costumes, and pulsating modern music played on classical Indian instruments. The high-energy music, array of color, and sensational dance scenes will captivate the audience and allow them to feel like they are in an actual Bollywood show. Through a mix of action, comedy, melodrama, and music, this high-paced show will be an excitement from start to finish while giving the audience a glimpse of India.
The storyline follows Varsha, a young, hard-working journalist from an Indian family living in Europe. When she travels to her homeland of India for the first time to write a story on the Bollywood film industry, she discovers "The Greatest Indian Love Story Ever Told." Through 2,000 sparkling outfits, bursts of colors, and a glittery slice of Bollywood romance, this love story is a flamboyant one and the perfect Valentine date.
Tickets will be available beginning Tuesday, January 10, 2017, by visiting the IUP HUB Box Office on Pratt Drive, by calling 724-357-1313, or by ordering online. Regular: $40; Seniors (60+): $34; and I-Card holders, students, and children: $18. For groups of 15 or more, please call the Lively Arts Office at 724-357-2787.