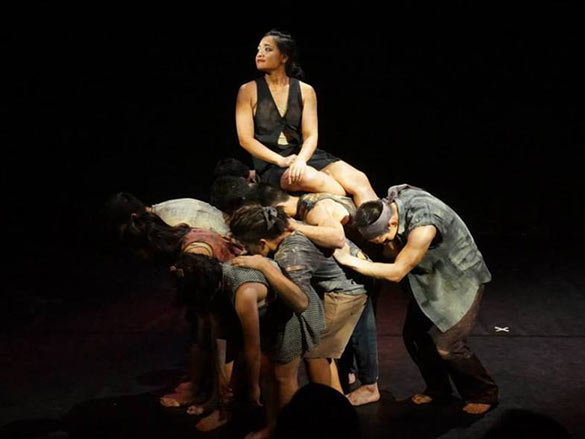 Daloy Dance Company
October 20, 2016 at 8:00 p.m.
Fisher Auditorium, Performing Arts Theater
This event is over.
Performing Canton and Himalya, Daloy Dance Company of the Philippines is described as "breathtaking, provocative, and daring." IUP has the honor of welcoming this rising dance company to the stage of Fisher Auditorium, serving as the host site to kick off its premiere U.S. tour.
This performance is in celebration of International Education Week at IUP and part of the Office of International Education's Cultural Festival activities. It is also one of two dance companies presented during the 2016-17 Ovations! season as part of a project titled "International Connections Through Dance" funded, in part, by the McKinney Charitable Foundation through the PNC Charitable Trusts.
This young and upcoming company employs dance, theater, improvisation, and movement meditation to cultivate new perspectives and push the possibilities in contemporary dance. Founded in 2014 in Manila, Philippines, by highly acclaimed contemporary dancer-choreographer Ea Torrad, the company is an experimental collective, with its strength lying it the diversity of its members.
The dancers of Daloy use their uniformly strong technique and obvious discipline to produce works that both question and celebrate society. Never restricted by conformity, the company aims to serve as a medium in the development of new and relevant works to forward the discourse on contemporary dance-making and performance.
Very active in the Filipino scene, founder Ea Torrad has danced principal and soloist roles in famous classical and contemporary full-length ballets. She has toured not only her homeland, but the United States, Russia, Europe, Scotland, Cambodia, and Japan.
Along with establishing Daloy, she has served as a faculty member of dance schools such as the Cultural Center of the Philippines Dance School, Ballet Manila School, Asian American Performing Arts Society, and the Marie Eugenie Theatre of the Assumption.
Single tickets will be available beginning Tuesday, September 20, 2016, by visiting the IUP HUB Box Office on Pratt Drive, by calling 724-357-1313, or by ordering online. Regular: $28; Seniors (60+): $24; and I-Card holders, students, and children: $16. For groups of 15 or more, please call the Lively Arts Office at 724-357-2787.