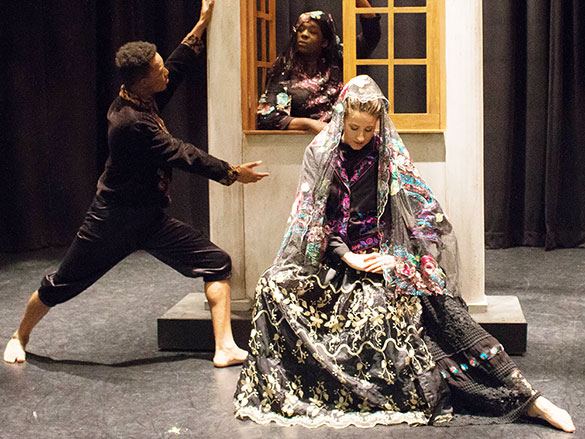 Blood Wedding
November 04, and 05, 2016 at 2:00 p.m.
November 06, 2016 at 2:00 p.m.
Zink Hall Dance Theater
This event is over.
When a young bride-to-be receives a visit from a former paramour on her wedding day, a family blood feud threatens the celebration and sparks a deadly dance of love and deception, family and revenge, beauty and betrayal.
The IUP Dance Theater, under the direction of Holly Boda-Sutton and with composer David Martyniuk, presents this classic tragic tale by Spanish dramatist Federico Garcia Lorca, interpreted through dance to examine the passionate bloodlines of fidelity, betrayal, and revenge. Themes of choice, fate, and deception collide onstage, and, in the end, question the authority of the community to place boundaries on love.
A seductive tale of passion and vendetta in a rural Spanish community, one that speaks to any heart longing for true connection.
Single tickets will be available beginning Tuesday, October 4, 2016, by visiting the IUP HUB Box Office on Pratt Drive, by calling 724-357-1313, or by ordering online. Regular: $15; Seniors (60+): $12; and I-Card holders, students, and children: $10. For groups of 15 or more, please call the Lively Arts Office at 724-357-2787.