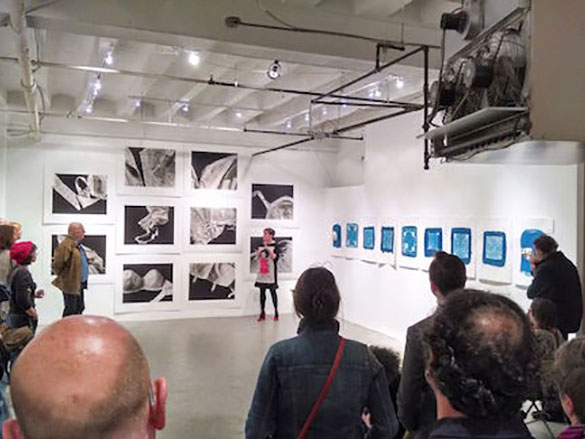 Associated Artists of Pittsburgh
September 15, 2016
Kipp Gallery, Sprowls Hall
Free Admission
Kipp Gallery will serve as the venue of an exhibit showcasing the finest works done by the members of the Associated Artists of Pittsburgh, one of America's oldest and most active artist organizations.
This exciting exhibition brings together a truly unique cross-section of the finest Pittsburgh area artists. Join us opening night as Jessica Beck of the Andy Warhol Museum and previously of the Hirshorn Museum and Sculpture Garden, as well as the Terra Foundation and Museum of Contemporary Art, Chicago, serves as curator.
Beck is the associate curator of Art at the Andy Warhol Museum. Since starting at the museum in early 2014, she has co-curated Chuck Connelly: My America and Pearlstein, Warhol, Cantor: From Pittsburgh to New York. She has overseen the installation of two exhibitions this year: Michael Chow aka Zhou Yinghua: Voice for My Father and Andy Warhol Ai Weiwei, and is organizing a major monographic exhibition, Andy Warhol: My Perfect Body, for fall 2016.
Beck has also organized the Exposures Series: temporary installations by emerging, student artists in the museum's street-facing windows. Prior to moving to Pittsburgh, Beck worked at the Hirshhorn Museum and Sculpture Garden in Washington, D.C. as a programs associate for the Director's Office. There, she organized the lecture series Talking About Andy, which coincided with the Andy Warhol: Shadows exhibition and featured special guests Hal Foster and Kara Walker. She also invited Douglas Crimp to debut his 2012 publication Our Kind of Movie: The Films of Andy Warhol.
Beck has written for Burlington Magazine and the Curator's Office, and focused both her undergraduate and graduate research on Warhol. She received her BA in art history from the University of Chicago and completed her MA with Distinction at the Courtauld Institute of Art.
Artists
Patrick Daugherty
Laurie Trok 
Michael Walsh 
PJ Zimmerlink 
A reception will be held on September 15, following an artist's talk.