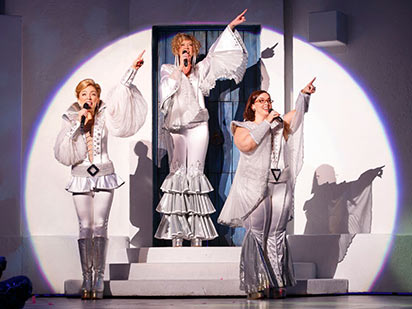 Mamma Mia!
March 02, 2016 at 8:00 p.m.
Fisher Auditorium, IUP Performing Arts Center
This event is over.
Over 54 million people around the world have fallen in love with the characters, the story, and the music that make Mamma Mia! the ultimate feel-good show! The smash hit musical Mamma Mia! is celebrating over 5,000 performances on Broadway and is the ninth-longest-running show in Broadway history.
The story tells of an independent, single mother named Donna who owns a small hotel on an idyllic Greek island. She is about to let go of her spirited daughter named Sophie, whom she raised alone and is now getting married. For Sophie's wedding, Donna invites her two lifelong best girlfriends from her one-time backing group "Donna and the Dynamos." But, Sophie secretly invites three guests of her own.
On a quest to find the identity of her father to walk her down the aisle, she brings back three men from her mother's past to the Mediterranean paradise they visited 20 years earlier. Through chaos and magic, new love blooms and old romances rekindle on this lush island full of possibilities.
Mamma Mia! is a celebration of mothers and daughters, old friends, and new family being found. Inspired by the storytelling magic of ABBA's songs, from "Dancing Queen" and "S.O.S" to "Money, Money, Money" and "Take a Chance on Me," this worldwide production is one in a million!
Tickets are available beginning January 26, 2016, by visiting the IUP HUB Box Office on Pratt Drive, by calling 724-357-1313, or by ordering online. Regular: $44; Discounted for seniors or groups of 15 or more: $39; and I-Card holders, students, and children: $20.