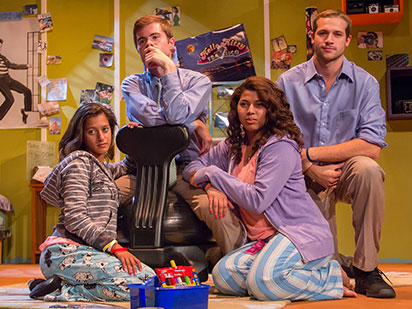 I and You
September 24, and 25, , and 26, 2015 at 2:00 p.m.
September 27, 2015 at 8:00 p.m.
September 30, , and
October 01, , and 02, , 03, 2015 at 8:00 p.m.
Waller Hall Mainstage, IUP Performing Arts Center
This event is over.
I and You, written by Lauren Gunderson, is a haunting play about the strange and transcendent connections between us all.
Connected so deeply with Walt Whitman's Song of Myself, I and You was the first play Lauren Gunderson wrote directly from the end to the beginning, taking about two years to complete. Along the way she worked with several sets of actors and directors who each shed light in corners of the characters and explored points of the plot that could turn and twist. So, at its best, it can bring a collective conversation to audiences of all ages.
The play is directed by Carrie J. Cole.
Tickets are available beginning August 25, 2015, by visiting the IUP HUB Box Office on Pratt Drive, by calling 724-357-1313, or by ordering online. Regular: $15; Discounted for seniors or groups of 10 or more: $12; and I-Card holders, students, and children: $10.