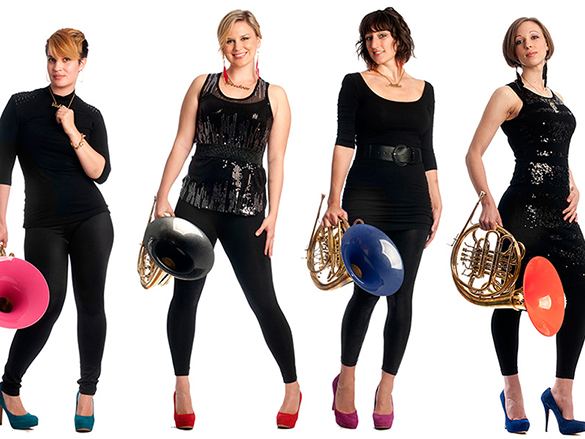 Genghis Barbie
January 23, 2016 at 8:00 p.m.
Fisher Auditorium, Performing Arts Center
This event is over.
Genghis Barbie, the leading post post-feminist, feminist, all-female horn experience, is the most innovative and energizing chamber ensemble of its generation and beyond.
The French horn foursome consists of: Rachel Drehmann (aka Attila the Horn), Danielle Kuhlmann (aka Velvet Barbie), Leelanee Sterrett (aka Cosmic Barbie), and Alana Vegter (aka Freedom Barbie).
The group has a combined 24 years of conservatory training and delivers a visceral and unadulterated musical adventure. Performing arrangements of pop music from the 1960s to today, contemporary commissions, and classical works, they are the most versatile and expansive group in New York City's music scene. Genghis Barbie is completely self-generated and self-propelled and vows to create distinctive, interactive, and personal performances.
In addition to their busy NYC performing schedule, the French horn quartet of ladies has performed as Contributing Artists at the 2011 International Horn Society Symposium, in San Francisco, playing Schumann's Konzertstück with the Southern Methodist University Wind Ensemble, and appeared on America's Got Talent. In May 2012, Genghis Barbie made its Carnegie Hall debut in the premiere of a new concerto for four horns, commissioned by the New York Youth Symphony.
As educators, they have toured numerous universities presenting workshops, master classes, and lectures on musical entrepreneurship.
"When the group speaks to the classes about entrepreneurship," Kuhlmann says, "we divulge the secret of business, which is that we love what we do."
Tickets are available beginning December 15, 2015, by visiting the IUP HUB Box Office on Pratt Drive, by calling 724-357-1313, or by ordering online. Regular: $28; Discounted for seniors or groups of 10 or more: $24; and I-Card holders, students, and children: $16.