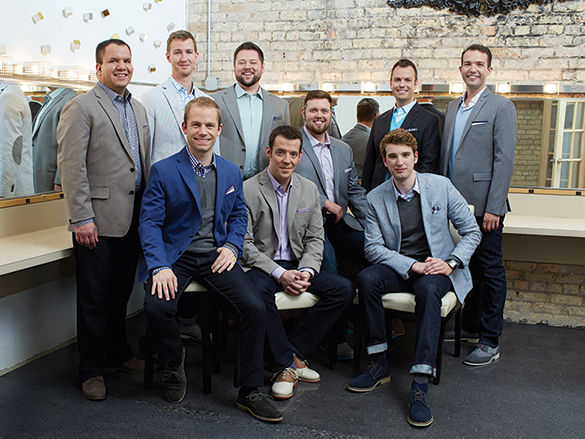 Cantus
November 07, 2015 at 7:00 p.m.
Fisher Auditorium, Performing Arts Center
This event is over.
Acclaimed as "the premier men's vocal ensemble in the United States," Cantus engages audiences in a meaningful music experience and ensures the future of ensemble singing by mentoring young singers and educators.
As part of their visit to Indiana, Cantus will work with upwards of 100 high school and community male singers to combine forces on a choral spectacle rarely ever seen. They will also work with the singers in a variety of outreach activities.
Cantus was founded on the ideals of collaborative music making, which shows when the group works together to reach new levels of artistic excellence, innovation, and audience engagement. They perform more than 60 concerts each year in national and international touring, and in their home of Minneapolis-St. Paul, Minnesota.
Committed to the expansion of the vocal music repertoire, Cantus actively commissions new music for men's voices including works from Sarah Kirkland Snider, Nico Muhly, Lee Hoiby, Steven Sametz, Kenneth Jennings, Peter Hamlin, Edie Hill, and Robert Kyr. The group also has a rich history of collaborations with other performing arts organizations such as the Minnesota Orchestra, Saint Paul Chamber Orchestra, the Boston Pops, and the James Sewell Ballet.
For their musical achievements, Cantus has been the recipient of numerous awards including Chorus America's highest honor, the Margaret Hillis Award for Choral Excellence (2009), as well as Chorus America's Education Outreach Award (2011). The ensemble was also the 2010-2011 Artist in Residence on Minnesota Public Radio and American Public Media's Performance Today.
Tickets are available beginning October 6, 2015, by visiting the IUP HUB Box Office on Pratt Drive, by calling 724-357-1313, or by ordering online. Regular: $28; Discounted for seniors or groups of 10 or more: $24; and I-Card holders, students, and children: $16.