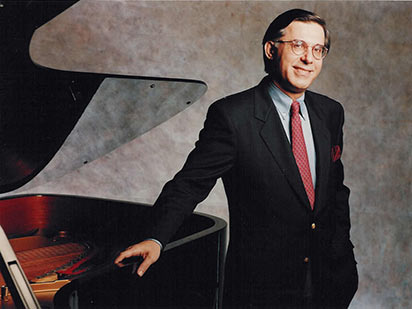 Arnaldo Cohen
April 26, 2016 at 8:00 p.m.
Gorell Recital Hall, 2nd Floor Sutton Hall
This event is over.
Brazilian-born pianist Arnaldo Cohen, a Steinway Artist, has long had a reputation for astonishing his audiences with the musical authority and blistering virtuosity of his performances.
His graceful and unaffected manner belies playing of white-hot intensity, intellectual integrity, and glittering bravura technique.
Long in demand internationally, Cohen has entered a rarefied echelon among performers in America. He is regularly invited to appear as soloist with major orchestras such as the Philadelphia Orchestra, the Cleveland Orchestra, and the Los Angeles Philharmonic Orchestra. His solo recitals have drawn enthusiastic crowds of piano aficionados.
Cohen has dedicated himself to the art of chamber music. For five years, he was a member of the prestigious Amadeus Trio and has performed with many string quartets. including the Lindsay Quartet, Chillingirian Quartet, Orlando Quartet, and the Vanbrugh Quartet.
As an artist of diverse interests and talents, Cohen is the recipient of a fellowship awarded by the Royal Northern College of Music, in Manchester, and has held a professorship at the Royal Academy of Music in London. In 2004, after living in London for 23 years, he relocated to the United States and now holds a piano professorship with tenure at the Indiana University, in Bloomington, Ind., where, upon his appointment, he was cited as "one of the world's greatest living pianists."
Tickets are available beginning March 22, 2016, by visiting the IUP HUB Box Office on Pratt Drive, by calling 724-357-1313, or by ordering online. Regular: $22; Discounted for seniors or groups of 15 or more: $18; and I-Card holders, students, and children: $12.