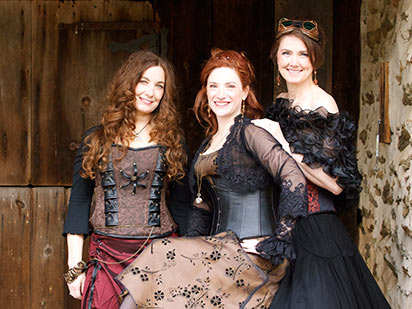 American Tapestry
April 14, 2016 at 8:00 p.m.
Gorell Recital Hall, 2nd Floor Sutton Hall
This event is over.
Presented in celebration of Indiana Borough's Bicentennial, American Tapestry will perform music that has become richly woven into the fabric of American culture.
Its music celebrates our nation's trials and tribulations, encompassing the history from the country's birth through the Civil War, from the Gold Rush to the great wave of immigration marking the 20th century.
The trio of acclaimed artists, led by pianist Robin Spielberg, performs fresh and innovative arrangements of classic American music that many have grown to love. Its music is filled with the nostalgia and warmth of songs that have been shared from one generation to the next and arranged with a concerted and heartfelt effort to keep this music alive and going forward.
In addition to the songs which are instantly recognizable, Spielberg incorporates several of her original pieces to the mix to create a memorable collection. The whole family will enjoy an evening filled with songs to which they could sing along.
American Tapestry trio includes Spielberg (piano/composer/arranger/backup vocals), Kate MacLeod (guitar/fiddle/vocals), and Megan Knapp (cello). On the prestigious roster of Steinway Artists, Spielberg formed the trio to perform fresh and innovative arrangements of "…the songs that shaped us, the songs that live within us, the melodies of America."
Tickets are available beginning March 15, 2016, by visiting the IUP HUB Box Office on Pratt Drive, by calling 724-357-1313, or by ordering online. Regular: $22; Discounted for seniors or groups of 15 or more: $18; and I-Card holders, students, and children: $12.