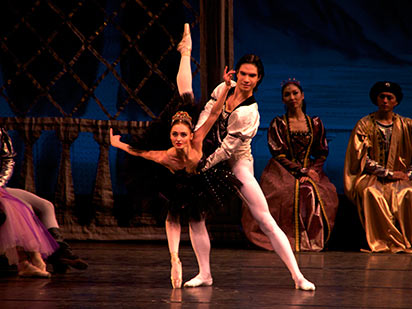 Swan Lake: Moscow Festival Ballet
March 28, 2016 at 7:00 p.m.
Fisher Auditorium, IUP Performing Arts Center
This event is over.
Coming directly from Russia, the Moscow Festival Ballet will perform Swan Lake. Performed to the glorious music of Peter Tchaikovsky, the tale tells a story of a prince and his love for a beautiful Swan Queen, who was trapped by an evil curse.
The Moscow Festival Ballet was founded in 1989 when the legendary principal dancer of the Bolshoi Ballet, Sergei Radchenko, sought to realize his vision of a company which would bring together the highest classical elements of the great Bolshoi and Kirov Ballet companies in an independent new company within the framework of Russian classic ballet.
Since its inception, the Moscow Festival Ballet has completed two tours of Europe with extraordinary receptions in Italy, France, Spain, Germany, and the Netherlands. Two tours of the United Kingdom, including capacity audiences at London's famed Coliseum, have resulted in re-engagements for four seasons. The company has also performed with great success in Turkey at the Istanbul Festival and in Greece at the Athens Festival and recently completed a two-month tour of Japan, Korea, Singapore, and Hong Kong.
Under the direction of Radchenko, the Moscow Festival Ballet continues to expand its repertoire. In addition to commissioning new works from within Russia and abroad, the company specializes in 20th-century full-length ballets such as Cinderella, Romeo and Juliet, Legend of Love, Stone Flower, and The Golden Age.
Tickets are available beginning February 23, 2016, by visiting the IUP HUB Box Office on Pratt Drive, by calling 724-357-1313, or by ordering online. Regular: $40; Discounted for seniors or groups of 15 or more: $34; and I-Card holders, students, and children: $18.