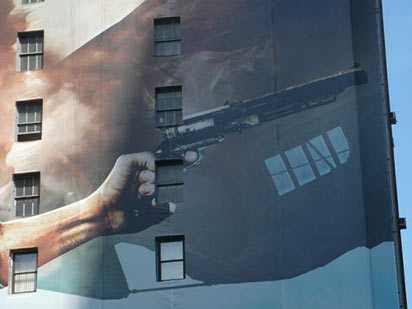 Words and Objectivity
March 17, 2016
Kipp Gallery, Sprowls Hall
This event is over.
Kipp Gallery will host Spanish artist, photographer, and writer Mireia Sentis for a spring 2016 featured artist exhibition and student workshop.
"Words and Objectivity" is an evolving exhibition that unfolds in two phases. During the first phase, Kipp Gallery will be transformed into a classroom where student artists participate in a concept development workshop to consider photographic objectivity. The student artists will ultimately co-produce photographs from Sentis' "Words" series for phase two, the exhibition.
Born in Barcelona, Sentis grew up in Paris and studied at Oxford and in Florence. She has directed and anchored cultural radio and TV programs in Spain and the UK. Since 1983, she has exhibited her photographic work throughout Europe, South America, and New York, receiving acclaim from Artnews and the New York Times. Her "Words" series began with Sentis asking colleagues to provide her with one word, without any knowledge of her plan for using it. She then challenged herself to photograph that word.
There will be a Curator's Talk and reception with Miereia Sentis on Thursday, March 17, 2016, at 5:00 p.m. in McVitty Auditorium in Sprowls Hall. A second public reception will be held on Thursday, March 31, at 5:00 p.m. at Kipp Gallery. All activities and exhibitions are free.
This project has been made possible by generous contributions from the Department of Art, Department of English, Department of Foreign Languages, Department of Journalism, College of Fine Arts, College of Humanities and Social Sciences, and the IUP Student Cooperative Association.