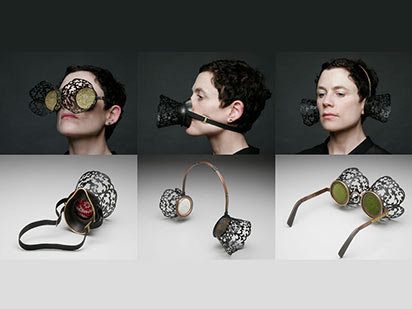 Objects of Mourning
October 01, 2015
Annex Gallery, Sprowls Hall
This event is over.
"Through this body of work, I seek to understand how everyday objects assist us in transitioning through the difficult process of grief/mourning.
"I am primarily interested in how mourning and commemoration are contained within objects and our constructed systems. During the process of mourning, objects, such as clothing and photographs, link us to these loved ones that have passed.
"Many of my recent pieces incorporate clothing from my deceased family members, as well as silhouettes and text pierced out of precious and semi-precious metals, as well as other materials. This work is a source of meaning beyond its physical properties and becomes an outlet for hyper-remembering, displacement, emptiness, loss, as well as sentimentality and hope."
—Renée Zettle-Sterling
There will be an Artist Talk on Thursday, October 1, 2015, at 5:00 p.m. An opening reception will follow.
Regular Hours:
Tuesday-Friday, 12:00-4:00 p.m.