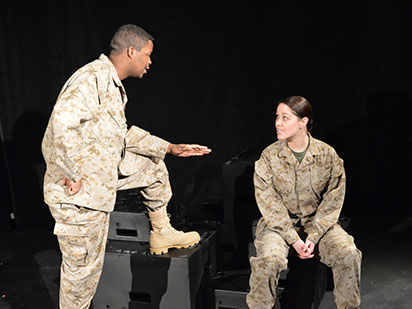 Soldier's Heart
February 19, and 20, , and 21, 2015 at 2:00 p.m.
February 22, 2015 at 8:00 p.m.
February 25, , and 26, , and 27, , 28, 2015 at 8:00 p.m.
Waller Hall Mainstage, IUP Performing Arts Center
This event is over.
The nightmare of a nine-month deployment in Iraq follows U.S. Marine Casey Johnson home, leaving her unable to cope with the needs of her family and trapped in a haunted house.
Through flashbacks and unexpected events, Casey's story unfolds and we discover if there is any way to heal this particular soldier's heart.
Alice Carter of Pittsburgh's Tribune Review calls it "a tense, raw, troubling and no-nonsense examination of what happens to soldiers, particularly female soldiers, serving in the military in general and Iraq in particular." Colette Newby of the Pittsburgh City Paper remarks "this is...absolutely a play worth seeing."
Soldier's Heart deals with mature subject matter. The production contains strong language and images of a violent and sexual nature. Parent discretion is advised for audience members under the age of 17.
Tickets are priced at $15 (regular), $12 (discount for senior citizens and groups of 15 or more), and $10 (I-Card holder, students, and children).