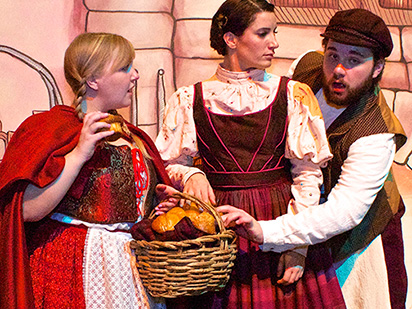 Into the Woods
April 16, and 17, , and 18, 2015 at 2:00 p.m.
April 19, 2015 at 2:00 p.m.
Fisher Auditorium, IUP Performing Arts Center
This event is over.
Once upon a time, a Baker and his Wife wished to have a child, Cinderella wished to attend the King's Festival, and Jack (of Beanstalk fame) wished his cow would give some milk. When everyone's wishes are granted, the consequences of their self-centered actions come to haunt them.
Eventually, they learn a poignant life lesson about working together, the stories we tell our children, and the real meaning of "happily ever after."
Into the Woods is the award-winning musical featuring music and lyrics by Stephen Sondheim and based on the book by James Lapine. It debuted on Broadway in 1987 and ran for 764 performances, garnering many awards during its initial Broadway run, and spawned numerous national tours and revivals and remains one of the American Theatre's best-loved musicals to produce.
Winner of 1988 Tony Awards for Best Score and Lyrics, as well as Best Original Book. Winner of the 2002 Tony Award for Best Revival.
Into the Woods contains some violence, death, and frightening moments appropriate for children ages 10+.
Tickets are priced at $18 (regular), $15 (discount for senior citizens and groups of 15 or more), and $12 (I-Card holder, students, and children).