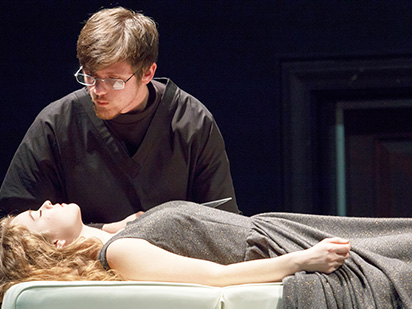 Fahrenheit 451
November 06, and 07, , and 08, 2014 at 2:00 p.m.
November 09, 2014 at 8:00 p.m.
November 12, , and 13, , and 14, , 15, 2014 at 8:00 p.m.
Waller Hall Mainstage, IUP Performing Arts Center
This event is over.
Ray Bradbury's tale of a future without books comes chillingly to life in an adaptation by the legendary author himself.
Considered a work of science fiction when first published, the issues raised in this powerful book—censorship, the effects of technology on society and literature, and the means by which knowledge is gained—continue to be very real concerns today.
Media has claimed the culture. Books are outlawed. Owning one is a crime only flame can punish, and it is Montag's job to light the match. But when a chance encounter sparks doubt, Montag embarks on a journey that may consume more than words, more than lives. Burn enough books, and some minds will catch fire.
The New York Times raved that Bradbury's account of "this insane world, which bears many alarming resemblances to our own, is fascinating."
Tickets are priced at $15 (regular), $12 (discount for senior citizens and groups of 15 or more), and $10 (I-Card holder, students, and children).