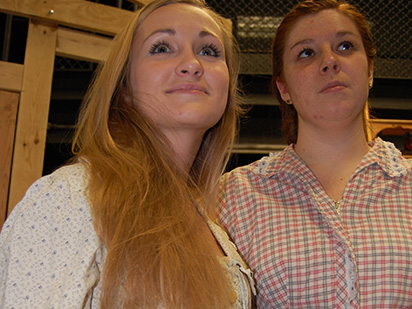 The Tender Land
December 04, and 05, , and 06, 2014 at 2:00 p.m.
December 07, 2014 at 2:00 p.m.
Waller Hall Mainstage, IUP Performing Arts Center
This event is over.
Conducted by Jack Stamp and under the direction of Tania Arazi Coambs, The Tender Land was composed by Aaron Copland, his only full-length opera.
Copland was inspired to write this opera after viewing the Depression-era photographs of Walker Evans and reading James Agee's Let Us Now Praise Famous Men.
Set in the rural American Midwest of the 1930s, this coming-of-age tale centers around Laurie Moss, a soon-to-be high school graduate. When Laurie meets Martin, a handsome drifter who picks up work on her family's farm, she must make the choice of whether to remain in her quiet farming community, or leave the life she has always known behind.
Tickets are priced at $18 (regular), $15 (discount for senior citizens and groups of 15 or more), and $12 (I-Card holder, students, and children).