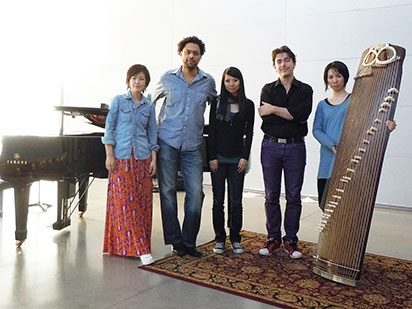 Strings and Serpents
October 22, 2014
Gorell Recital Hall, Second Floor of Sutton Hall
This event is over.
Strings and Serpents is a multi-cultural collaboration currently in development between two pianists (Andy Milne's Crystal Magnets Piano Duo with French pianist Benoit Delbecq), an animator, and two Japanese koto players. Merging musical and visual forms into a unified experience, Strings and Serpents features a 60-minute animated film in conjunction with the live performance of the combined piano and koto duos.
Crystal Magnets is a piano duo from two masters of contemporary improvisation, Canadian Andy Milne and Frenchman Benoît Delbecq. In 2007, they received the French-America Jazz Exchange commission from Chamber Music America to develop and record "Where is Pannonica?" Using the sonic landscape of the 5.0 surround sound format for inspiration, the music was composed in part to exploit the unique potential for placing specific compositional elements in distinct regions of the mix.
The New York Times lauded the recording as a "strangely beautiful new album" from two "resourcefully contemporary pianists, both drawn to quixotic interrogations of harmony and timbre." Both Milne and Delbecq are recipients of the prestigious Civitella Fellowship and, individually, lead and compose for numerous projects, tour extensively throughout the world, and are highly regarded within the jazz and creative music communities of New York and Paris, respectively.
Musically, the project explores a synthesis of Japanese and Western structures in terms of form, improvisational language, and rhythm. Seamlessly blending traditional and modern koto textures with the language of jazz and contemporary improvisation, the compositions explore a polymetric approach for prepared piano and koto, expanding the interaction of rhythmic forms and sonic colors between the music and the animation.
The theme of the animation is based on the Rainbow Serpent mythology and employs 2-D and 3-D computer-generated imagery (CGI), inspired by the music. The story is told visually, without dialogue or subtitles, and elegantly projects a visual composition that experiments with color, shape, texture, light, and motion to enrich the relationship between the pianos and kotos.
Tickets are priced at $26 (regular), $22 (discount for senior citizens and groups of 15 or more), and $14 (I-Card holder, students, and children).