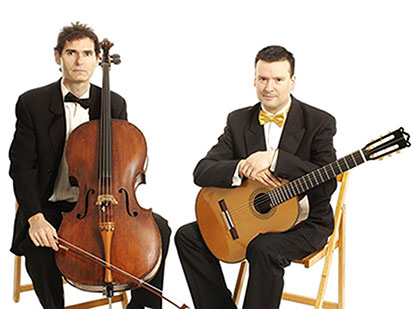 Jones-Maruri Duo
April 09, 2015 at 8:00 p.m.
Gorell Recital Hall, Second Floor of Sutton Hall
This event is over.
The Jones-Maruri duo is the only established cello guitar duo in the world and enjoys an active concert and recording career.
Formed in Madrid in 1990, Michael Jones and Agustin Maruri have since played concerts in Europe, the Americas, Asia, and Australia. Their first U.S. tour was in 1991 and included concerts in New York and St. Augustine. They've since performed each year in the United States, giving recitals in New York, Chicago, Houston, Washington, D.C., Los Angeles, and San Francisco. They've played at venues including the Lincoln Center, Metropolitan Museum of Art, and Hancock Centre and at festivals in the United States, Cuba, and Venezuela.
In 1999, the duo recorded a collection of Spanish romantic melodies from the 19th century called The Charm of Spain for the Metropolitan Museum of Art in New York. The recording was performed on instruments from the museum's collection.
Following their debut tour of Japan and the Far East in July 2007, the duo was invited to perform in China in 2008, playing concerts in the Forbidden City concert hall as well as Shanghai and other cities in the People's Republic. Since then, they have performed in Korea, Hong Kong, and the Philippines.
Tickets are priced at $22 (regular), $18 (discount for senior citizens and groups of 15 or more), and $12 (I-Card holder, students, and children).