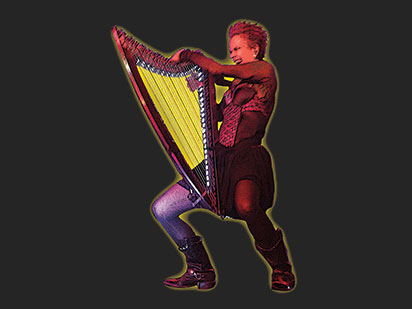 Deborah Henson-Conant
December 04, 2014 at 8:00 p.m.
Fisher Auditorium, IUP Performing Arts Center
This event is over.
Deborah Henson-Conant ("DHC") is a Grammy-nominated one-woman orchestra. With electric harp, voice, and a looper pedal, she layers sounds in real time, then weaves solo lines and vocals above it.
Her signature instrument is an 11-pound, carbon-fiber electric harp, designed specifically for her by the Camac Harp Company in France. It's now one of the fastest-selling new harp models in the world and carries her name, the "DHC Light."
Forget the demure harpist-forget the classical music-forget dozing off in the back row. Henson-Conant is a showman, entertainer, and solid musician who's been compared to musical greats from Leonard Bernstein to Elvis Presley.
She's toured with the Boston Pops, opened for Ray Charles at Tanglewood, and jammed onstage with Bobby McFerrin and offstage with Aerosmith's Steven Tyler. She's been featured on television shows from Charlie Rose to Joan Rivers and The View and in two full-length PBS music specials.
Legendary Tonight Show trumpeter Doc Severinsen calls her the "Wild Woman of the Harp," and iconic rock guitarist Steve Vai says she's the "Jimi Hendrix of the Harp." See her once and you'll never look at a harp the same way again.
Tickets are priced at $26 (regular), $22 (discount for senior citizens and groups of 15 or more), and $14 (I-Card holder, students, and children).