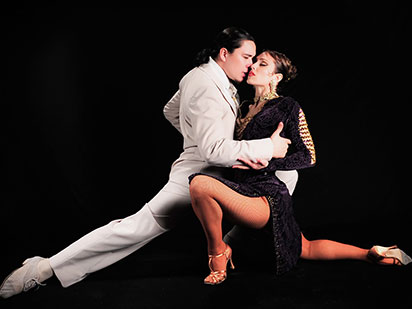 Te Amo, Argentina
February 11, 2015 at 8:00 p.m.
Fisher Auditorium, IUP Performing Arts Center
This event is over.
Te Amo, Argentina is an exotic audio-visual journey that draws audiences into the heart of Argentina and its fascinating, diverse culture. The richness of their performance comes from a seamless unification of Argentine chamber music, heart-stopping original tango choreography, and commissioned projected animations and visual artwork.
Having recently toured throughout North America coast to coast, Te Amo, Argentina ("I love you, Argentina") is headlined by Latin Grammy-winning cellist Antonio Lysy, as well as sizzling international stars of tango dance Miriam Larici and Leonoardo Barriounevo (of Fox's So You Think You Can Dance, and NBC's Superstars of Dance).
Using Antonio Lysy's autobiographical experiences as the backbone for the show's story arc, Te Amo, Argentina sends audiences through the different terrains and landscapes of Argentina. From the Amerindian rhythms of the Andes Mountains to the city-street cafés of Buenos Aires, the combination of music, dance, and projected media weave together an inspiring homage to Argentina.
Tickets are priced at $26 (regular), $22 (discount for senior citizens and groups of 15 or more), and $14 (I-Card holder, students, and children).