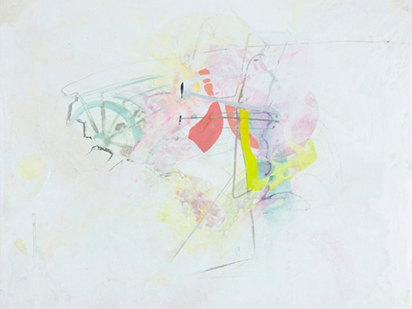 Songs, Sonnets, and Stolen Lines
September 11, 2014
Kipp Gallery, Sprowls Hall
This event is over.
This exhibition presents a new series of paintings and drawings by artist Teresa Getty. Getty's work is inspired by literary memories from her childhood, including rhymes, song lines, and poems.
During her creative process, Getty scribbles notes and reminders that form a visually lyrical movement throughout the work. This movement is likewise extended into the entire installation composed of roughly 25 paintings on panel and stretched paper that range in size from six inches to 5 feet in size.
Getty considers her work to be "process-driven" documents that are "rooted in contemplating the commensal relationship between man and machine." She experiences this relationship first-hand having a daughter whose life is dependent upon a machine.
There will an Artist talk in Room 118, Sprowls Hall on September 11, 2014 at 5:00 p.m., followed by a reception.