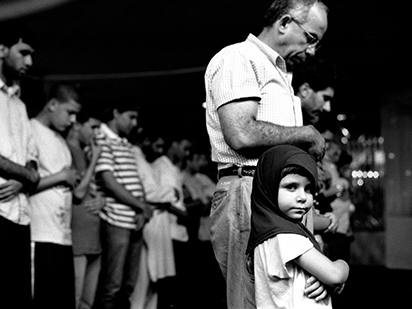 Muslim/American, American/Muslim
October 30, 2014
Annex Gallery, Sprowls Hall
This event is over.
A new and expanded Islamic Center of Indiana is under construction in White Township, just outside of Indiana Borough. This is the town's first official building dedicated specifically for Islamic prayer. In recognition of this event, the Annex Gallery at Indiana University of Pennsylvania is proud to host an exhibition of photographs by Robert Gerhardt that report on mosques and Muslim communities around the country.
Gerhardt began making photographs for this series on the first night of Ramadan in 2010, and continued to make photographs for the project in subsequent years.
The series has been shown at many college and university art galleries around the country in an effort to create ongoing dialogue between Muslims and non-Muslims in both rural and urban communities.
There will be a reception held on October 30 from 6:00 to 7:00 p.m.
Gallery Hours
Monday through Friday: 12:00 p.m.-4:00 p.m.
Closed weekends and university holidays