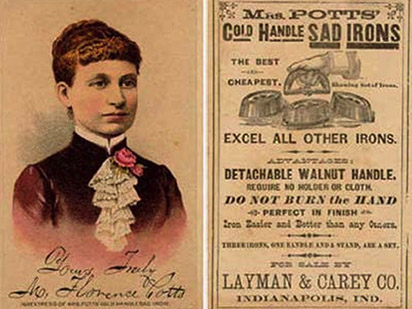 Irons: Functional Tools to Art Objects
September 13, 2014
University Museum, Sutton Hall
This event is over.
The Maureen A. Flaherty Post Collection of Irons and Iron Related Objects is featured in an exhibition that tells the cultural, social, and technological story of ironing. Selections from this unique and comprehensive collection include antique implements, contemporary products, and toy versions.
For those of us who have grown up in permanent press clothing, the exhibition explains what an iron is, why and how different irons were used throughout time, and how they developed. Nineteenth- and twentieth-century portraits of individuals dressed in pressed ruffles and pleats, from the museum's permanent collection, and costumes loaned by IUP's Fashion Merchandising Program illustrate the role of the iron as status object. Images from retro women's magazines and information from IUP's former Home Economics Program, where ironing was once taught, reflect the historical importance of this domestic skill.
The exhibition also looks at irons from a visual arts perspective, as inspiration and raw material for artists. Selected works by sculpture students in IUP's Art Department, created from surplus irons donated by Maureen Post, will be displayed along with works by sculptor and print maker Willie Cole.
Cole uses discarded irons and other household items to create assemblage art. He also has used the shapes of iron plates and ironing boards to represent shields and other symbolic elements of African and African American history and culture. Scorched patterns created by hot irons on canvas and paper suggest tattooing, branding, and scarification practiced by some African cultures. Other works by Cole employ ironing implements and motifs that refer to domestic work done by African American women. Cole states that his work has been less about representing African and African American culture than about "challenging viewers' perceptions of reality" and encouraging us to see the world through a different perspective.
To kick off this exhibition, there will be a public reception on September 13, 2014 from 6:00-8:30 p.m. in the University Museum.
Regular Museum Hours
Tuesday, Wednesday, and Friday: 2:00-6:30 p.m.
Thursday: 12:00-7:30 p.m.
Saturday: 12:00-4:00 p.m.
Closed Sunday, Monday, and University Holidays