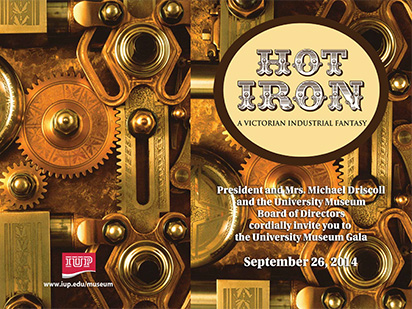 Gala: Hot Iron—A Victorian Industrial Fantasy
September 26, 2014 at 6:00 p.m.
University Museum, Sutton Hall
This event is over.
This annual benefit event has a steam-punk theme this year, suggested by the exhibition Irons: Functional Tools to Art Objects. We celebrate the intrepid Victorians who didn't let full skirts, pleats, and starched collars impede their daring exploits.
Consider Nellie Bly—the daring reporter from Armstrong County, Pennsylvania (and a student at Indiana Normal School for one term). Her undercover stay in a New York City asylum exposed mistreatment of the mentally ill and is the original model for investigative journalism. Her own round-the-world trip of 72 days beat the record of Jules Verne's Phineas Fogg in Around the World in Eighty Days.
The futuristic fiction writings of Jules Verne and H. G. Wells are an inspiration for steam-punk, a literary genre that has spawned an aesthetic lifestyle. Steam-punk style combines Victorian fashion with retro-industrial gear such as massive watches on chains, pocket compasses, flyers' goggles, and other hardware that might have equipped the adventurers in Verne and Wells novels. Gala guests are invited to indulge their fashion fantasies for the event.