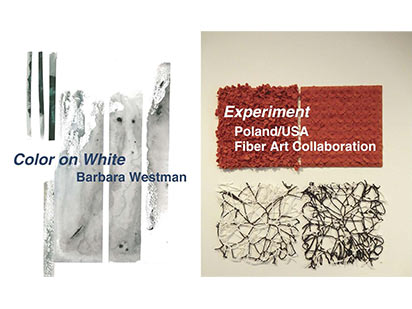 Experiment and Color on White
June 08, 2015
University Museum, Sutton Hall
Free Admission
Summer 2015 brings two concurrent exhibitions to the University Museum: Experiment: Poland/USA Fiber Art Collaboration and Color on White: Collage by Barbara Westman.
Experiment: Poland/USA Fiber Art Collaboration began in July 2013 as "…an international, intercultural art conversation and collaboration" between the Fibers Studios at Slippery Rock University and the Academy of Fine Arts, Gdańsk, Poland.
The resulting artworks, utilizing textiles, paper, wool, wire, plastics, synthetics, and wood, in addition to others, demonstrated "contrasts" through a series of diptychs. The contrasts are evident through the qualities of the materials used and the composition of the materials. As described by coordinators Barbara Westman, Agata Zielińska- Głowacka, and Aleksander Windyński, "...even the contrast of two people's personalities, emotions, life events, ecology, and more" can be seen. The collection was first exhibited in Poland and the United States in 2014.
In Color on White, Westman's collages express her interest in the relationship between colors. Westman describes her work as an "exploration of color" in "how colors blend together or settle together." Utilizing a "flat, white background helps to focus on the relationship of colors and shapes." Westman explains that "each viewer will react differently to my artwork and will find a unique interpretation of it."1
Both Experiment and Color on White will run June 8 to July 16, 2015. An opening reception will be held June 6, from 6:00 to 8:30 p.m., with Barbara Westman's artist's talk beginning at 7:00 p.m., at the University Museum, Sutton Hall.