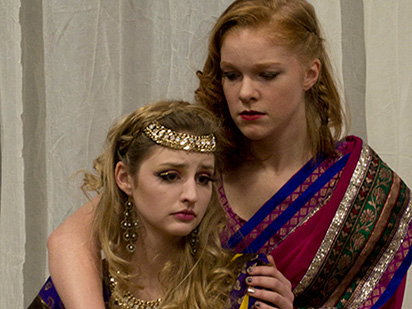 The Monster in the Garden
February 20, and 21, , and 22, 2014 at 2:00 p.m.
February 23, 2014 at 8:00 p.m.
February 26, , and 27, , and 28, ,
March 01, 2014 at 8:00 p.m.

This event is over.
The translation and adaptation of this rediscovered work will receive its world premiere on the Waller stage. A romantic comedy by 17th-century playwright Pedro Calderón de la Barca is given new life by award-winning playwright Caridad Svich.
A wild child lives on an enchanted island. One day, he comes upon a young woman and experiences the tumult of love in his heart for the first time and sets out in its pursuit. The only problem is that this wild child happens to be Achilles. What's a boy to do to be near his love but the seemingly impossible?
Please note: This play was formerly listed as "A Play in Development." Tickets stating "A Play in Development" remain valid for these performances.
Tickets are priced at $14 (regular), $12 (discount for senior citizens and groups of 15 or more), and $9 (I-Card holder, students, and children).