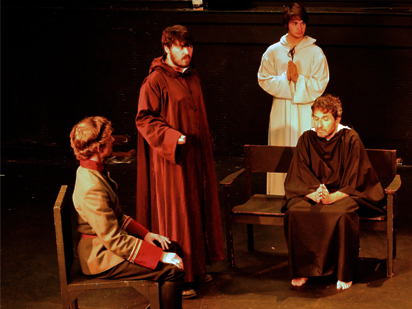 The Brothers Karamazov
October 17, and 18, , and 19, 2013 at 2:00 p.m.
October 20, 2013 at 2:00 p.m.

This event is over.
Director Matko Srsen distills the sweeping saga of Dostoyevsky's last, epic novel into a potent quaff of spiritual drama and moral struggle. Using a small cast of 10 players, The Brothers Karamazov combines language, movement, and acapella chants and prayers from Orthodox and Catholic sources to weave a mystic examination of faith and doubt.
Is free will a curse? What is the depth of our moral responsibility?
Fyodor Karamazov's three sons, Vanya, Mitka, and Alyosha, ascend toward God and descend into madness to answer these and other questions sparked when Mitka returns home to claim an inheritance on the death of his mother. Former head of directing at the Croatian Academy of Dramatic Art, Matko Srsen has received numerous awards, prizes, and recognition for a lifetime devoted to the theater, including Best Theatre Director for his production of Dostoyevsky's Brothers Karamazov.
Tickets are priced at $14 (regular), $12 (discount for senior citizens and groups of 15 or more), and $9 (I-Card holder, students, and children).